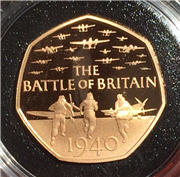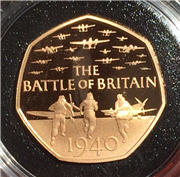 1940 was a critical year for Britain in the Second World War.  Hitler wanted to defeat Britain by the end of 1940 and he realized that to do so Germany would need to establish air superiority. Between 10th July 1940 until the end of October, the Battle of Britain between the RAF and the Luftwaffe was effectively the first all-air battle of modern warfare. The eventual British Victory was summed up by Winston Churchill:
"…if the British Empire and its Commonwealth last for a thousand years, men will still say, 'This was their finest hour'".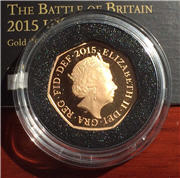 In 2015 to commemorate the 75th Anniversary of the Battle of Britain the Royal Mint released 50 pence pieces depicting the battle. This coin is a proof gold 50p piece struck in 22 carat gold and limited to 500 pieces.
Weight: 15.5g
Diameter:27.30mm
Reverse Designer: Gary Breeze
Obverse Designer: Jody Clark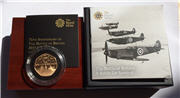 Originally issued by the Royal Mint in an acrylic capsule and presented in a wooden case. It was issued with an individually numbered certificate of authenticity (COA) and a descriptive booklet.
My thanks to Max Hughes (MJ Hughes Coins) for allowing me to photograph the coin.
---
List of items on:


eBay UK


eBay USA
---


On eBay UK:
---
BATTLE OF WATERLOO 5 BRONZE COIN SET NO GOLD COIN 1815-2015

£ 37.99

2015 THE BATTLE OF WATERLOO 1 Medal BRONZE coin 29g, Prince George of Britain

£ 5.70

1940-2015 Heritage Gold Sovereign Set Battle of Britain 75th Anniversary

£ 495.00

2015 Battle of Britain 75th Anniversary RAF Proof Coin/Medal with Case

£ 18.99

2015 TDC 75th Anniv Of Battle Of Britain Supersize 65mm 110g Gold Plated £5 Coin

£ 79.50

75th Anniversary of the Battle of Britain Solid Gold Crown Coin Cover

£ 175.00

GOLD PLATED The Battle of Waterloo 1815 - 2015 Coin (Waterloo Campaign Medal)

£ 26.99

GOLD PLATED The Battle of Waterloo 1815 - 2015 Coin (Waterloo Campaign Medal)

£ 19.00
---
List of items on:


eBay UK


eBay USA
---