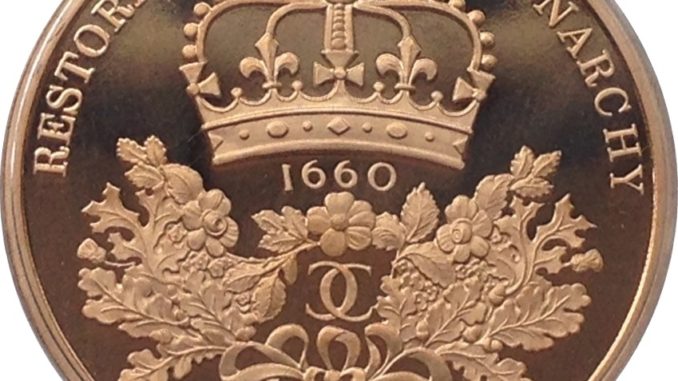 The 2010 Gold proof Crown (five pounds) was issued to commemorate the 350th anniversary of the Restoration of the Monarchy. The Restoration of the English monarchy began in 1660 when Charles II was returned to the throne by Parliament following Cromwell's period of rule in return for more leniency in how the country was run and changes to the religious setup.

The obverse shows Queen Elizabeth II's fourth portrait designed by Ian Rank-Broadley. The coin is made of solid 22 carat gold (Gold fineness of 0.916) and has a weight of 39.94g. Only 1,200 gold proof crowns were issued.
The reverse features a design by David Cornell, depicting a crown above a spray of oak leaves, interlinked 'C's and the date '1660'.  The inscription is 'RESTORATION OF THE MONARCHY' with the denomination in words 'FIVE POUNDS' below. The edge inscription reads 'A QUIET AND PEACEFUL POSSESSION'.

Originally issued by the Royal Mint in an acrylic capsule, presented in a wooden case, with outer black card box. It was issued with an individually numbered certificate of authenticity (COA).
My thanks to Max Hughes (MJ Hughes Coins) for allowing me to photograph the coin.
---


On eBay UK:
---
Check prices for these coins in the eBay Coins Category
---


On eBay USA:
---
Check prices for these coins in the eBay Coins Category
---