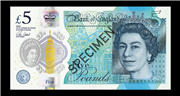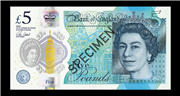 The new UK Polymer Five Pound note was released on 13th September 2016 by the Bank of England, heralding a new era of plastic materials to replace the existing paper/linen notes. The new fiver is slightly smaller (about 15%) than the previous note. On the reverse of the note is Winston Churchill.

Polymer was selected as a replacement as it will last 2½ times as long as paper notes, is stronger but flexible. It's environmentally cleaner and recyclable.
The new note has a range of security features, including a see-through window, metallic images, foil patches, raised printing, very small yet crisp micro-lettering, and an ultra-violet feature that shows the figure '5' under UV light. (Actually the old note was pretty good too, with only 0.0075% forgeries found in 2015).

The old five pound note will remain legal tender until May 2017, but the Bank of England will honour the face value of genuine banknotes even if no longer in circulation.
More Polymer Notes are planned
The new polymer £10 note featuring Jane Austen, will be issued in summer 2017. The new polymer £20 note, showing JMW Turner, will be issued by 2020.  Scottish banks will also be issuing a number of polymer notes in September/October 2016.
A new 12-sided £1 coin will be issued from the Royal Mint in March 2017. About 1.4 billion will be minted for release.
Images of banknotes in this article are copyright Bank of England.