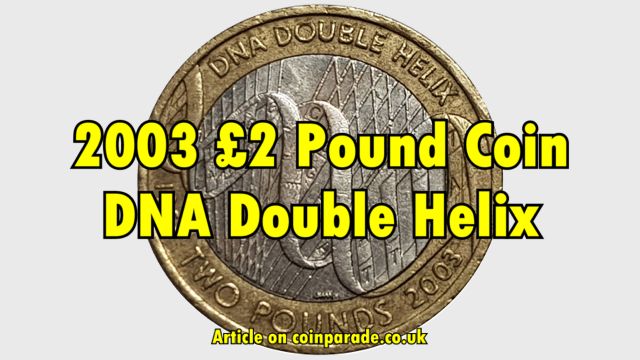 DNA was actually discovered quite a long time ago
The 2003 two pounds coin commemorated the 50th anniversary of the discovery of the structure of DNA.
Despite it being a modern buzz-word, DNA was actually discovered quite a long time ago. DNA was first isolated by Friedrich Miescher in 1869 but the molecular structure was identified by James Watson and Francis Crick in 1953 using data acquired by X-Ray Physicist Raymond Gosling.
DNA (Deoxyribonucleic acid) is a molecule that has genetic information for the growth, development, functioning and viruses of all known living organisms.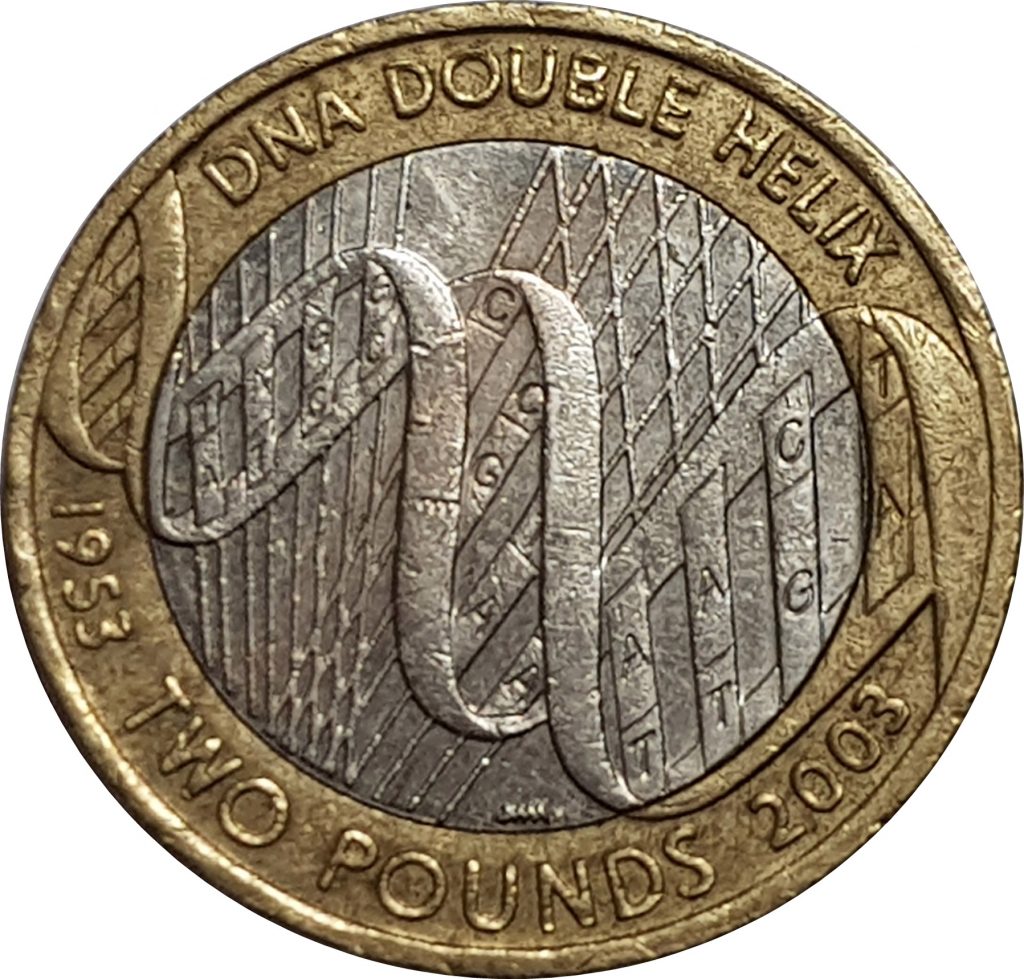 2003 Two-Pound Coin
Designed by John Mills, the reverse depicts the spiralling double helix structure of DNA with the inscription 'DNA DOUBLE HELIX', and dates '1953' and '2003' separated by the denomination 'TWO POUNDS'. The edge inscription reads 'DEOXYRIBONUCLEIC ACID'.
Queen Elizabeth II's fourth portrait can be seen on the obverse, designed by Ian Rank-Broadley.
Gold Two Pound DNA Coin
The Royal Mint also issued this coin in gold proof, interesting to collectors to see how a bimetallic coin could be reproduced in gold. The Royal Mint did this cleverly by making the outer disc out of 'red' gold, and the inner disc being 'yellow' gold.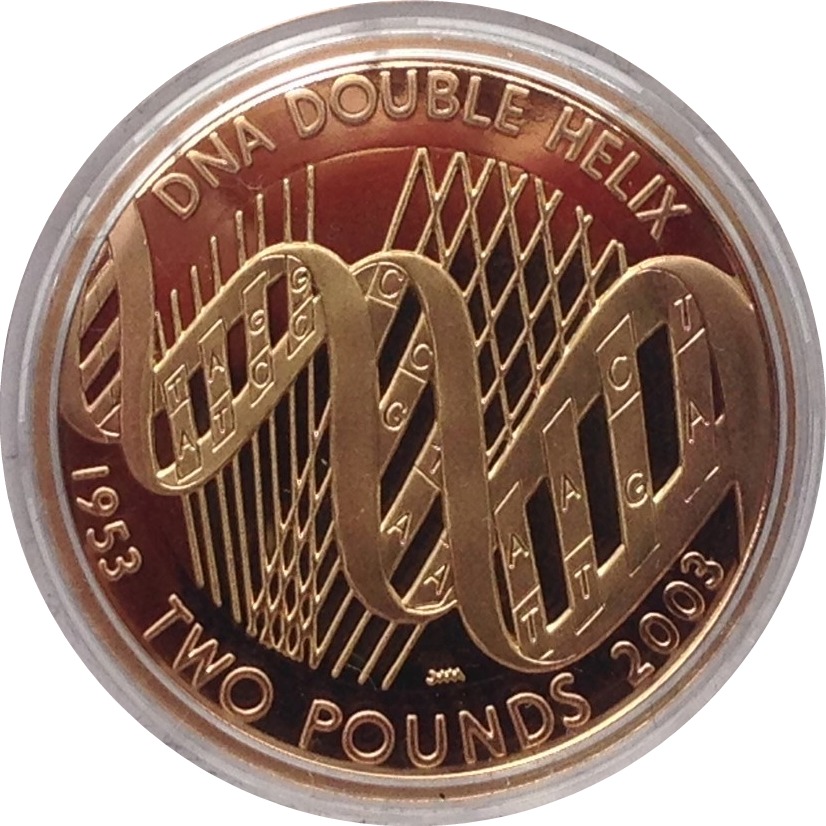 The two pounds piece is made of solid 22 carat gold (Gold Fineness of 0.916), and weighs 15.98 grams. It has a diameter of 28.40mm.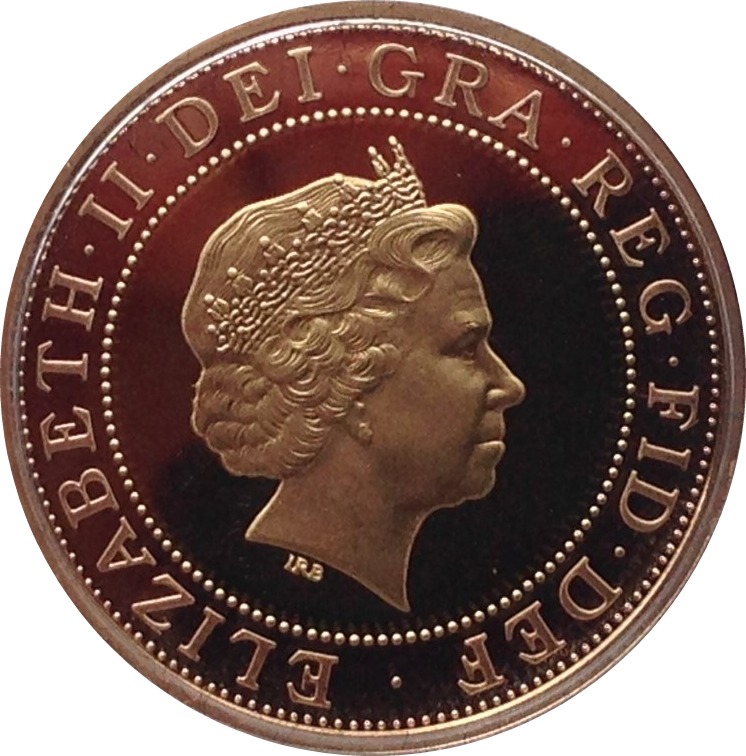 General Description: Two Pound Coins
The current Two Pound (£2) coin that is found in circulation is a bimetallic coin introduced on 15th June 1998 (although the first are dated 1997). There are almost 500 million £2 coins of various designs in current circulation.
There have been other two pound coins. From 1823 until 1996 they made occasional appearances and the double-sovereign has a two pound value. Commemorative two pound coins were issued from 1986 to 1996.
Specifications of standard £2 coin
Weight: 12 g
Diameter: 28.4 mm
Thickness: 2.5 mm
Edge: Milled, with incuse lettering
Design style: Circular, bi-metallic
Composition Outer ring: Nickel-brass (76% Cu, 20% Zn and 4% Ni)
Composition Centre: Cupro-nickel (75% Cu , 25% Ni)
Mintage of circulating coins was 4,299,000.
---
---
List of items on:
---


On eBay UK:
---
Rare Two £2 Pound Coin UK Coins Olympics Commonwealth NI Navy Bible Mary Rose

£ 6.49

2003 DNA Double Helix £2 Two Pound Coin | Includes Coin Flip & Fast Delivery

£ 3.95

Rare £2 coins two pound coin Commonwealth Olympic Bible Navy RAF Captain Cook

£ 5.09

RARE 2003 Discovery of DNA - Double Helix Rare 2 Pound Coin

£ 300.00

DNA Double Helix £2 Coin 2003 Two Pound Coin

£ 3.99

2003 DNA Celebration £2 Two Pound Coin Pack Sealed Royal Mint BU

£ 29.95

£2 Coin Silver Proof 2003 50th Discovery Of DNA Royal Mint BOX + COA

£ 44.95

£2 Coin DNA Double Helix 50th Anniversary 2003 Circulated FREEPOST

£ 4.49
---
List of items on:
---