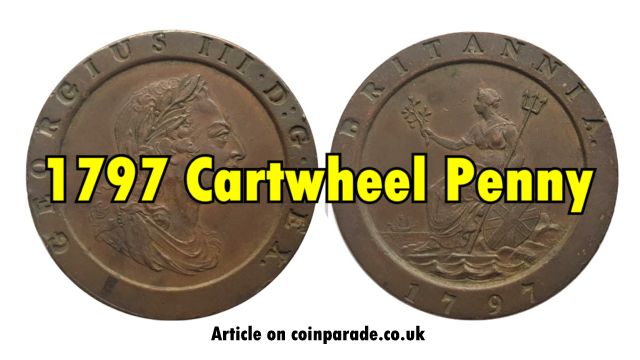 The 1797 Cartwheel Penny – George III
by Les Kendall
The 1797 Penny is one of the most remarkable coins in British history. Its size earned the coin its nickname of the 'Cartwheel' penny. It has a diameter of 36mm, it is 3mm thick and weighs 28.35g. Compared to a modern penny it is almost twice the size, twice the thickness and a staggering eight times heavier!
Why was the 1797 Cartwheel Penny so large?
Back in the latter part of the 18th Century, gold and silver were shooting up in price. This affected the gold Guinea and also the lower denomination silver coins. This made silver coins too expensive to use in small value coins which resulted in a general lack of small change to pay wages.
By the late 1780s pennies and halfpennies were being minted by private companies. Although not actually legal tender, these 'tokens' were widely used.

To make matters worse, this was the time of the Industrial Revolution and many individuals had a small press and the technical ability to manufacture coins. Copper was cheap and by the 1790s maybe 90% of the British copper coinage was counterfeit.
Matthew Boulton used Steam power for the first time
Eventually, the British government asked Birmingham Industrialist Matthew Boulton to use his private mint in Soho, Birmingham to strike official British coins. Boulton, who had James Watt as a business partner, would use steam power for the first time to create British coinage.
The government gave Boulton 480 tonnes of copper to make pennies, and another 20 tonnes to make twopences. Because of the high level of forgeries, it was stipulated that a penny had to contain one penny's worth of copper. This created a physically huge coin as one penny could purchase about one ounce of copper.
A coin of such a size turned out to be difficult to produce even for steam powered machines, and the batch was still being made in 1798 and 1799, although all the coins were dated 1797.
Obviously too large and heavy for everyday use, Merchants didn't like the coins and no more Cartwheel pennies or twopences were made at the Soho factory, although in 1799 Boulton did have a follow up order for halfpennies, and farthings and later on minted smaller pennies.
The Soho Mint Provided a Complete Design Service
Matthew Boulton offered a complete design service and had his own artist/engraver, Conrad Heinrich Küchler, to design both sides of the coin. Küchler (1740-1810) was a German engraver who came to England in 1793 and was employed by the Soho Mint.
The Reverse shows Britannia, but not sitting on rocks as in previous depictions but on the waves of the sea with a ship in the distance. The impression is that Britain rules the waves. Britannia holds a trident in one hand and an olive branch in the other. Look closely below the shield, in the waves you can see 'SOHO' engraved in it.
There is a deeply raised rim on both sides of the coin. The coin has a plain edge. SCBC reference 3777.
The Obverse is a bust of King George III.

There are a number of variations. The wreath may contain 10 or 11 leaves. The other variants are concerning alloys and finish – copper, copper proof, gilt copper proof, bronzed proof, silver proof and gold proof. The proofs are rare and can be expensive.
Market for 1797 Carwheel Pennies
There are still plenty of Cartwheel pennies around, and you can get worn ones from a few pounds. Be careful at the top end as there are many replicas floating about. If the coin looks mint (with lustre) then be wary as this condition is very rare. Our advice, as always, is that if you are spending any big money then use a trusted dealer.
Images used by permission of M J Hughes Coins.
---
List of items on:
---


On eBay UK:
---
1797 Cartwheel penny piece George III fair example

£ 12.99

GEORGE III Carthwheel Penny 1797 Coin - Very Worn!

£ 1.50

1797 George III "Cartwheel" penny.

£ 60.00

Penny. King George III. 1797. Free Postage.

£ 10.00

Penny. George III Cartwheel Penny. 1797. Free Postage.

£ 10.00

1797 CARTWHEEL PENNY COIN / KING GEORGE III ERA (321)

£ 4.00

George III, Great Britain, Cartwheel Penny, 1797, Silver Plated, Curiosity

£ 25.00

GEORGIUS III - D:G - REX. 1797 BRITANNIA KING GEORGE PENNY COPPER CARTWHEEL

£ 250.00
---
List of items on:
---