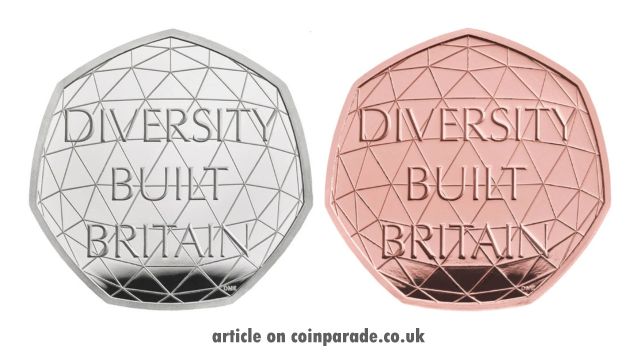 A new fifty pence coin minted by the Royal Mint seeks to embrace all elements of diversity in Britain.
The Reverse, designed by Royal Mint graphic designer Dominique Evans, shows a series of interconnecting lines and triangles that form a network in a geodome creating the symbol of connections and strength together. The inscription is: DIVERSITY BUILT BRITAIN.
Dominique Evans has already designed some well known coins, such as the Queen Elizabeth's Sapphire Coronation,  the 2017 life and work of Jane Austen coin, and the commemorative coin for Victory in Europe (VE) Day.
The seven-sided 50 pence coin has a diameter of 27.30mm. It is minted in cupro-nickel as a BU finish, and also as Silver Proof, Silver Proof Piedfort, Gold Proof and Gold Proof Piedfort.
The coins are available from the Royal Mint Shop

.
The Silver 50p version has a silver weight of 8g and the limited edition is 25,000. The Silver Proof Piedfort edition is limited to 2,500.

The Gold version weighs 15.50 g of 22 carat gold. The limited edition is set at 950 (960 maximim). The Piedfort gold version is limited at 200 (210) and weighs 31g.

The Obverse shows a portrait of Queen Elizabeth II by Jody Clark. It is common to all the coins in the family.

Images credit: The Royal Mint.
---
List of items on:
---


On eBay UK:
---
Rare & Valuable UK 50p Coins Fifty Pence Circulated Beatrix Potter Olympics WWF

£ 3.55

50p COINS FIFTY PENCE,OLYMPICS,BEATRIX POTTER,COMMEMORATIVE,KEW COIN

£ 4.99

Rare 50p Coins Olympic Beatrix Potter Kew Isle of Man WWF Snowman Fifty Pence

£ 3.99

Rare Two £2 Pound Coin UK Coins Olympics Commonwealth NI Navy Bible Mary Rose

£ 24.99

2022 50 years of Pride Brilliant Uncirculated 50p Coin With Coloured Decal

£ 14.99

2022 Platinum Jubilee HM Queen BU 50p Coin Pack Brilliant Uncirculated

£ 9.99

2022 QUEENS PLATINUM JUBILEE 50P COIN JODY CLARK UNCIRCULATED FROM SEALED BAG

£ 3.75

CHEAPEST 50p COINS FIFTY PENCE KEW GARDENS BEATRIX POTTER OLYMPICS BREXIT

£ 26.99

50 Years of Pride 2022 50p Coin Brilliant Uncirculated LGBTQ+ Pride UK 🏳️‍🌈

£ 11.99

50P COINS CIRCULATED/UNCIRCULATED ROYAL MINT BRITISH COIN HUNT - VARIOUS

£ 4.49

RARE 50p COINS KEW GARDENS PETER RABBIT OLYMPICS BEATRIX POTTER BREXIT DIVERSITY

£ 19.99

£2 COINS RARE SHAKESPEARE MARY ROSE UNDERGROUND COMMONWEALTH OLYMPIC JAMES BIBLE

£ 16.99
---
List of items on:
---