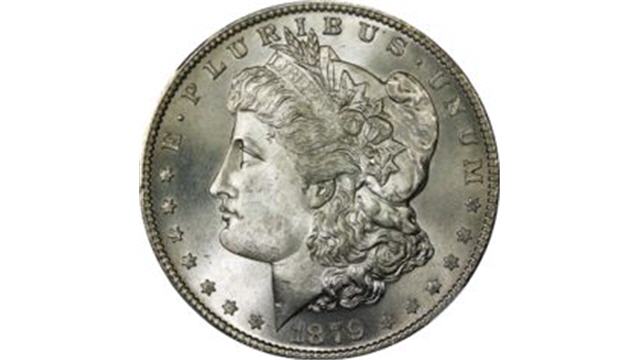 The Morgan Dollar was a USA silver coin minted from 1878 to 1904 and then again in 1921. It had a currency value of one US dollar.
The name Morgan derives from the designer George T. Morgan (1845-1925). Morgan was originally from Birmingham, England but moved to America in 1876 to become the assistant engraver at the US Mint. He later became Chief Engraver of the U.S.Mint from 1917 until 1925. Morgan is probably best know for the Morgan Dollar but he designed many other coins too.
Specifications
Diameter: 38.1 mm
Thickness: 2.4 mm
Weight: 26.73 g
Edge: Reeded
Silver Content: 90% (Copper 10%)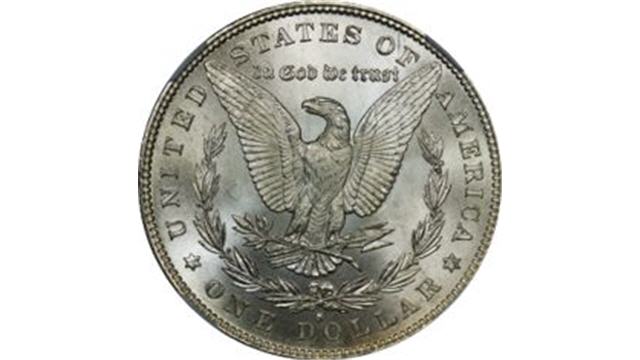 History
The story of the Morgan Dollar is very much tied to the economic history of the United States.
In American in the late 19th century, politicians tried to strengthen economic and monetary policies. The Gold Standard was already in place but some politicians (know as Silverites) wanted to have a bimetallic money system where both silver and gold could be used with a fixed weight ratio of 16 to 1.
Up until 1873 there had been free coining of silver. This meant any silver presented to the US Mint had to be made into a coin and returned as legal tender. Literally, you could dig up some silver of the correct weight and the Mint would make it into a coin for you! So each dollar was backed by physical silver.
Naturally, this expanded the money supply in an unlimited way and the government wanted more control over this process, so President Ulysses S. Grant introduced the Coinage act of 1873. This ended bimetallism and set the United Stated strictly to the Gold Standard.
As silver producers no longer had free coining, by 1876 the price of silver was dropping. This became a major political controversy at the time so to head off any trouble the government introduced various acts which committed them to purchase set amounts of silver each month. The 1878 Bland-Allison Act required a purchase of between 2 and 4 million dollars worth of silver (at spot price). This was replaced by the Sherman Silver Purchase Act of 1890 which required the treasury to purchase 140,000 kg of silver each month. This silver went into minting Morgan Dollars.
The Sherman Act was repealed in 1898 and when the silver reserves purchased by Sherman became exhausted in 1904, the Morgan Dollar production ceased.
It was not until the Pitman Act was passed in 1918 that silver dollars were allowed to be made again. This act was intended to help Britain to restock after WWI. Over 259 million coins were sold to the UK at the cost of $1 per troy ounce.
Morgan Dollars resumed production in 1921, but that year only; it was replaced by the Peace Dollar in the same year. Nevertheless, over 86 million Morgan Dollars were minted in 1921.
In all, over 650 million Morgan Dollars were minted. They were made in five different mints:
Philadelphia (No mint mark)
New Orleans (Mint mark = "O")
San Francisco (Mint mark = "S")
Carson City (Mint mark = "CC")
Denver (in 1921 only: Mint mark = "D")
The Morgan Dollar remains a popular coin with collectors and investors.
Credits: Our thanks to Brandon Grossardt for the coin image. George T. Morgan for the coin design.
---
List of items on:
---


On eBay UK:
---
Restrike USA 1879 CC Morgan Dollar

£ 3.19

Restrike USA 1878 CC Morgan Dollar

£ 3.19

1879 US One  Morgan Dollar in Display Case 

£ 60.00

USA - silver Morgan dollar 1921 D (Denver, Colorado mint)

£ 25.00

USA American 1890-S silver morgan dollar

£ 49.00

Reproduction Morgan Dollar 1881 Carson City mint

£ 5.00

1880s Morgan Dollar Commemorative Coin. RESTRIKE. *UK Dispatch*

£ 3.99

Silver Bullion Round.1 x1g. MORGAN DOLLAR DESIGN. **UK DISPATCH*

£ 3.99
---
List of items on:
---