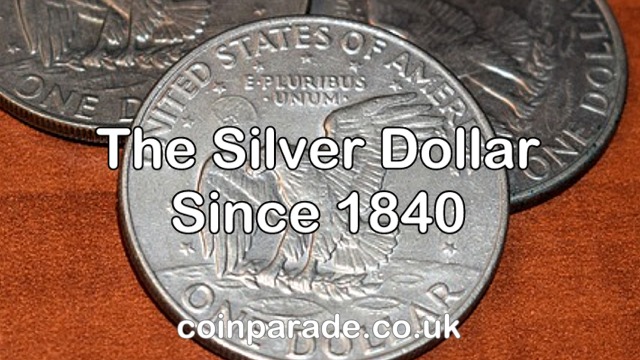 Rare American Coins and the Silver Dollar Since 1840
The Liberty Seated dollar was adapted from Christian Gobrecht's design for a silver coin with very limited mintage between 1836 and 1839. This coin met the new lighter weight, smaller size specifications for American silver dollars.
The reverse was changed on the Liberty Seated dollar in 1840, to an eagle with a shield across its breast. From 1840 to 1865 there was no "In God We Trust" motto on American coins. The motto was adapted officially at the end of the Civil War in 1866, and was used through to the end of circulating dollar type silver coins in 1935.
Trade Dollars designed by William Barber, (father of Charles Barber) were produced from 1873 to 1878 with mintages well into the millions for several of those years. Trade Dollars had the highest mintage of any dollar type silver coins up to that time.
Trade Dollars were meant for circulation in the orient, not at home, to compete with similar sized coins from other countries. Many of the coins sent to Asia had chop marks stamped in them, as acceptance for trade. I consider chopped Trade Dollars to be mutilated, problem coins. Although, it is interesting to compare the various chop marks.
US coinage had no provisions for a silver dollar since the Liberty Seated version ended in 1873. Tiny gold dollars were issued at this time, but nothing in silver.
The Bland Allison Act of 1878 authorized the silver dollar again. George Morgan designed the new version, struck from 1878 until 1904. They were made to the same specifications as the Liberty Seated dollar coins.
In 1921, the Morgan design was used again to strike more silver dollars than the last 10 years combined. No wonder they're so common. Finally, in December 1921, the new Peace Dollar designed by Anthony de Francisci was struck for a week before the New Year.

These silver dollars were again made to the same specs as Liberty Seated. The Peace Dollar ran from 1921 to 1928 and again in 1934 and 1935.
With mintage figures above 10,000,000 from 1922 until 1925, the years from the 1921 Morgan to 1925 Peace are anything but rare American coins. Silver dollar coins as of 1935 were made to the traditional specifications.
Production stopped until 1971 when someone decided the US needed silver type dollar coins again. These coins were different from their predecessors. They were no longer made of silver, they just looked like it.
The business/circulation strike Eisenhower "silver dollars" made in the 1970's are mostly worthless nickel clad copper imitations, with incredibly high mintage figures. They never circulated much, so all examples are nearly mint state.
Modern commemorative silver type dollars, produced since 1986 are no longer for circulation, but investment purposes. They again contain actual silver so their value changes with the spot price of silver. Therefore the one dollar denomination stamped on them is meaningless.
They are popular, beautiful, and anything but rare American coins. Their issues are based on the amount of silver available and their demand. That is, how many of them can be sold by the mint in any given year.
As you can see, the nature and purpose of the silver dollar has changed dramatically during its history. The silver dollar has gone from circulated money, to money that's only bought and sold.
To discover more about coins: collecting issues, money management, investing in the rare and bullion coin market, and much more, I invite you to visit heritagecoingallery.com for videos and free tips on buying coins at the best prices.
Article Source: Rare American Coins and the Silver Dollar Since 1840
---
List of items on:
---


On eBay UK:
---
American Silver Dollar 1804 Coin Moore Coin Morgan Coin Coin Collectible

£ 3.48

American Silver Dollar 1875 Statue of Liberty Flower Eagle Commemorative Coin

£ 3.48

Morgan American Silver Dollar 1889 New Orleans o

£ 150.00

2009 American Silver Eagle Liberty 1oz Fine silver one dollar coin in capsule

£ 32.99

1994 American Silver Eagle 1oz Fine Silver One Dollar Coin

£ 37.00

Silver bullion 24. 82 gram American 1923 Liberty Silver Dollar with Eagle rev

£ 19.99

American Silver Eagle One Dollar 1989 1 OZ FINE SILVER Coin WCA 3045

£ 46.75

NRA - American Silver Eagle - 1oz Silver Dollar Coin .999 silver Limited Edition

£ 64.28
---
List of items on:
---