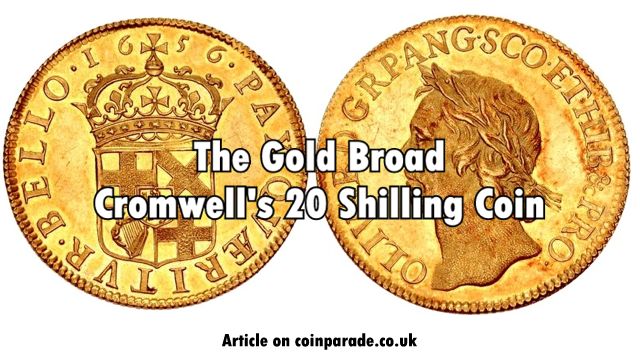 The 1656 Gold Broad (20 shillings) – Oliver Cromwell
The Gold Broad was only issued in 1656 and was denominated as 20 shillings, marking it as an ancestor of the guinea and sovereign. In 1656 there was no Monarch; Oliver Cromwell was Lord Protector and the parliament was the Second Protectorate.
The Broad is a milled gold coin and has a diameter of 29 or 30mm with a weight of 9.0 to 9.1g. It was designed by Thomas Simon, who was apparently also known as Thomas Symonds. The coin was struck in Blondeau's Mint, Drury House, London. Peter (Pierre) Blondeau was a French Moneyer (a private individual who is officially permitted to mint money). Blondeau produced milled coinage and invented new techniques to make coins, such as edge lettering.
This didn't always go well with other English Moneyers that worked for the Mint and the fear of reprisal was the reason Blondeau moved to Drury House as the Tower Mint couldn't guarantee the security of his machines. Cromwell was a big fan of Blondeau but when Cromwell died in 1658, Blondeau thought it safer to move back to France.

The Reverse shows the Crowned Shield of the Protectorate, showing the arms of the Commonwealth. The inscription "PAX QVAERITVR BELLO" means "Peace is sought through war". Dated 1656.
The Obverse shows a Laureated bust of Oliver Cromwell. The legend is "OLIVAR D G R P ANG SCO HIB &c PRO" meaning "Oliver, by the Grace of God, of the Republic of England, Scotland, Ireland etc., Protector".
The Gold Broad is an expensive coin, and may cost over £30,000.
There is a Piedfort version of the Broad denominated at 50 shillings and this is the only time when an English fifty shilling coin is minted. There is also half-broad but this may have been struck much later than the 1656 date. Both are rare.
Oliver Cromwell and the Commonwealth Era (1653-1658)
Oliver Cromwell was not a Monarch but an English military and political leader and later Lord Protector of the Commonwealth of England, Scotland, and Ireland. As such his name did appear on coins. The actual monarch was Charles I, whom Cromwell was key in having executed.

Cromwell was an MP but after one year King Charles didn't recall Parliament for nearly 11 years. Eventually the chasm between King and Parliament led to a Civil War. Oliver Cromwell was a talented military leader and won several battles with the Royalists, eventually defeating them and putting the King on trial leading to Charles I being put to death.
Cromwell as Protectorate (1653-1658) was a controversial figure. He deposed the Monarchy yet replaced it with his own ruthless, tyrannical rule. He signed himself 'Oliver P' (P for Protector) as in the style of Monarchs; he was referred to as 'his majesty' and paid himself £100,000 per year, which was a lot of money in the 1650s (probably £25 million today).
He was offered the Crown for the Monarchy in 1657 to help get stability back to the country, but eventually turned it down. After a short illness in 1658 he died, and his son Richard became Lord Protector but that didn't last long and Richard resigned in 1659. The monarchy was restored in 1660 when Charles II returned from exile. Oliver Cromwell's body (or what they thought was his body) was exhumed and posthumously executed.
'Commonwealth' Coins
Also in this era are 'Commonwealth' coins. These were issued between 1649 and 1660. They had no portraits, instead showing the Cross of St George and the Harp of Ireland. The inscriptions were in English rather than Latin so not as to be seen as associating with the Catholic Church.
The Commonwealth coins often carried mint marks: 1649-57 was a Sun, and 1658-1660 was an Anchor. The anchor shows the protectorship was that of Richard Cromwell, Oliver's son.
---
List of items on:
---


On eBay UK:
---
Sale! Restrike Oliver Cromwell 1658 Crown

£ 3.59

OLIVER CROMWELL SHILLING 1658 ROYAL MINT COIN (MUSEUM SPECIMEN COIN) AN 334

£ 6.99

Restrike Oliver Cromwell 1658 Halfcrown HIB obverse

£ 3.69

1658 OLIVER CROMWELL CROWN 5/- Coin - Very Rare

£ 6,350.00

OLIVER CROMWELL 1658 SILVER HALFCROWN

£ 7,995.00

1658 Oliver Cromwell Crown Contemporary Forgery READ DESCRIPTION in FULL #R89

£ 2,450.00

1656 Commonwealth Oliver Cromwell One Broad

£ 24.00

1651 Commonwealth Pattern Sixpence Oliver Cromwell

£ 22.80
---
List of items on:
---