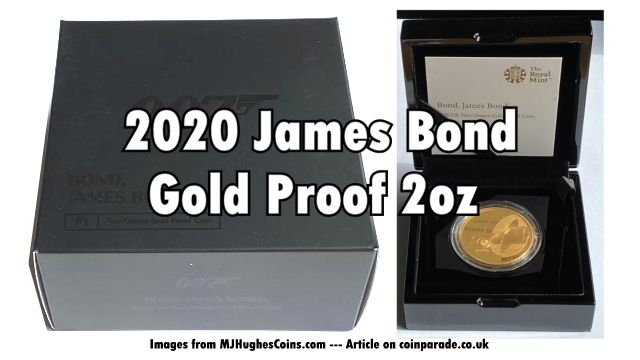 The Royal Mint James Bond 007 Series £200 coin is 2 ounces (62.42g) of 24 carat, 0.9999 gold. It is a large, 42mm diameter coin, with proof finish.
The Reverse, by Christian Davies and Matt Dent, shows the front of James Bond's most famous car – the Aston Martin DB5. It is overlayed by a giant '0', which will eventually form '007' when added to the other two coins in the series (when they are released).

The giant 'O' contains micro-text, which is very small lettering that contains the names of the first 25 James Bond films.

The Obverse shows the fifth portrait of Queen Elizabeth II by Jody Clark.

The edition is limited to only 250 coins. This Royal Mint product was officially licenced in partnership with EON Productions Limited and Danjaq.
If you want one then you'll have to go on your own secret mission to find one, as the coin is already sold-out on the Royal Mint website.
Not to be shaken (or stirred), I found one at M J Hughes Coins, and I thank them for supplying me with the images.