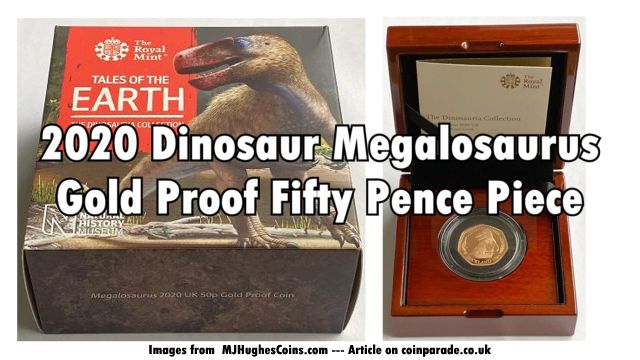 The 2020 Dinosaur Megalosaurus Gold Proof Fifty Pence Piece is the first coin to be issued as part of the "Dinosauria" range by the Royal Mint and is the first time a Dinosaur has featured on a UK coin.
This gold proof coin is made of 22 carat gold, weighs 15.5g and had a diameter of Diameter 27.30mm.
Back in 1824, William Buckland (1784-1856), who was a clergyman, geologist and palaeontologist, found fossil bones of a giant reptile which he named Megalosaurus (meaning 'great lizard'). He was the first person to document fossil dinosaurs.

A few years later, English biologist and palaeontologist Sir Richard Owen (1804-1892), studied the documents made about the Megalosaurus, Iguanodon and Hylaeosaurus and realised there were commonalities and they must be a distinct group of reptiles. He called the new group 'Dinosauria' from which we get the term dinosaurs.
Today we know the dinosaur Megalosaurus is a theropod, a large bipedal predator that lived in the Middle Jurassic period 170 to 155 million years ago.
The Reverse of the coin, by Paleo-artist Robert Nicholls, shows the Megalosaurus and the annotation 'BUCKLAND 1824'.
The Obverse shows a portrait of Queen Elizabeth II by Jody Clark.

The Megalosaurus gold proof 50p comes in its original presentation box, complete with outer card sleeve and certificate of authenticity. Mintage limit is 350 coins.
The coin shown is available from M J Hughes Coins and our thanks to them for use of the photographs.
---
List of items on:
---


On eBay UK:
---
megalosaurus 50p silver proof coin no. 1219

£ 64.95

NGC Graded 2020 Silver Proof Megalosaurus Coloured UK 50p Fifty Pence PF70

£ 119.95

2020 Silver Proof 50p coin "Tales of the Earth - Megalosaurus" NGC Graded PF69

£ 82.00

2020 Silver Proof Coloured 50p coin "Megalosaurus" in Case with COA

£ 58.00

The Royal Mint Megalosaurus Silver Proof Colour 50p COA 2240

£ 45.00

2020 Royal Mint Silver Proof Megalosaurus Dinosaur 50p Coloured Coin COA & Box

£ 69.99

Royal Mint 2020 Silver Proof Colour Megalosaurus 50p Coin Limited Edition 7000

£ 400.00

2020 NEW Silver Proof Colour Dinosaur Megalosaurus 50p Fifty Pence Coin BOX COA

£ 89.95
---
List of items on:
---