UK - Queen's Beasts
The Queens Beasts are a series of 10 designs issued by the Royal Mint to represent the ten heraldic statues that were present at the coronation of Queen Elizabeth II. The release is planned to run from 2016 through 2021 and are intended as bullion coins.
The series of coins are issued as silver, gold and platinum and in a wide range of weights and denominations. Weight ranges from quarter ounce to one kilogram.
Specifications:
Denomination: Varies, Gold 1oz is £100
Alloy: 999.9 fine gold
Diameter: 32.69mm
Quality: Bullion
Pure Metal Type: Gold
Pure Metal Content: 1 Troy Oz
Fineness: 999.9 (99.99% gold)
The Reverse of each coin image will represent one of the heraldic Queen's Beasts statues present at the coronation of Queen Elizabeth II. So far, Jody Clark has designed the entire range.

The Obverse shows a portrait of Queen Elizabeth II by Jody Clark.
The set comprises of The Lion of England, Unicorn of Scotland, Red Dragon of Wales, Black Bull of Clarence, Falcon of the Plantagenets, Yale of Beaufort, White Lion of Mortimer, White Horse of Hanover, White Greyhound of Richmond, and Griffin of Edward III.
The original statues lined the entrance to Westminster Abbey in 1953 at the coronation of Her Majesty The Queen. They are now on display in the
Canadian Museum of History
.
Gold is issued as 5oz, 1oz, ¼oz (denominated £500, £100, £25).
Silver is issued as 1kg, 10oz, 5oz, 2oz, 1oz (denominated £500, £20, £10, £5, £2).
(The year is that of the first or proposed release date of that design)
| | | |
| --- | --- | --- |
| Year | Beast | Description |
| 2016 | Lion of England | The crowned golden lion of England. It has been on the Royal Arms sine Edward IV (1461-1483). |
| 2016 | Griffin of Edward III | The Griffin is an ancient mythical beast. It signifies courage and strength combined. |
| 2017 | Red Dragon of Wales | The Red dragon was the badge of Owen Tudor. The story derives from the dragon on LLewelyn the Last's castle grounds. |
| 2017 | Unicorn of Scotland | Two unicorns were adopted by the Scottish Royal Arms back i the 16th century, eventually passing to England via James VI of Scotland who became James I of England. |
| 2018 | Black Bull of Clarence | The Black Bull derives from Edward IV. |
| 2019 | Yale of Beaufort | The Yale was a mythical beast, supposedly white and covered with gold spots and able to swivel each of its horns independently. It descends to the Queen through Henry VII. The portcullis is also a Beaufort badge. |
| 2019 | White Lion of Mortimer | The White Lion of Mortimer derives from Edward IV. The shield shows a white rose encircled by a golden sun, known heraldically as a 'white rose en soleil'. |
| 2020 | White Greyhound of Richmond | The White Greyhound of Richmond was a badge of John of Gaunt, Earl of Richmond, son of Edward III. Also used by Henry IV and Henry VII. The Tudor double rose is on the shield, one rose within another surmounted by a crown. |
| 2020 | Falcon of the Plantagenets | The falcon was first used by Edward III of the House of Plantagenet as his badge and descended to Edward IV. |
| 2021 | White Horse of Hanover | The White Horse of Hanover was introduced into the Royal Arms in 1714 when the crown of Great Britain passed to George I. |
Images used by permission of
The Royal Mint
Click to Check these on eBay UK
Mintage: Not known
Minted at
The Royal Mint
.
Remember 2016 ?
Donald Trump Elected as US President. BREXIT - Britain votes to leave EU after Referendum. Queen Elizabeth II marks her 90th birthday. Leicester City wins the 2016 Premier League, defying all odds. Sadiq Khan is sworn in as mayor of London. Archaeologists identify a Roman object found during construction of Bloomberg's new offices in the City of London as the oldest known hand-written document in the United Kingdom, dating back to AD 54. British astronaut Tim Peake returns to Earth after his six-month stay on the International Space Station. David Cameron resigns as Leader of the Conservative Party and is succeeded by his former Home Secretary Theresa May.
Elizabeth II (1952-Present)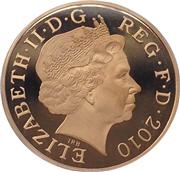 Queen Elizabeth II is the current and longest reigning monarch ever. Born on 21 April 1926 to King George VI and Elizabeth Bowes-Lyon, she became Queen in 1952 and her Coronation was on 2 June 1953.
Queen Elizabeth II has issued many coins and was monarch during decimalisation.
General Description: Gold Coins
This category is gold coins from around the World. Gold is a good investment and time and time again it has shown its durability even in difficult times. If you are buying gold coins as an investment, check which coins will give you the best tax advantages.
Which Mint: The Royal Mint
The Royal Mint is the designated place for the UK to mint coins. It dates back well over 1000 years and is a Government-owned company.
Formed in the reign of Alfred the Great about the year 886, during the period 1279-1812 it was generally referred to as
The Tower Mint
as it was housed at the Tower of London. The
Master of The Royal Mint
has included famous figures such as Sir Isaac Newton.
Since 2010 it has operated as Royal Mint Ltd, a company owned by HM Treasury, under an exclusive contract to supply all coinage for the UK although it also produces medals and coins for other countries. It is currently located at Llantrisant, Wales.
There is also an on-line shop at
The Royal Mint Shop

.
Country of Origin: United Kingdom
The United Kingdom (UK) is the Union of England, Scotland, Wales and Northern Ireland. It is often refered to as Great Britain (GBR). It has a long, rich history.
The orignal coinage was Pounds, Shillings and Pence but since decimalisation on 15 February 1971, it is £1 = 100p, that is One Pound = 100 pence. The coinage of the UK is also a long history, the Royal Mint being established as long ago as 886AD when coins were hammered. Today there is perhaps 30 billion coins in circulation, and many (numismatic) collectors coins and sets are issued frequently in gold, silver and other metals.
If you don't see a coin in the list below try the Gold Coins page on
eBay UK
---
List of items on:


eBay UK


eBay USA
---


On eBay UK:
---
Royal Mint Queens Beasts 1/4oz Gold Coins Full Set

£ 10,000.00

The Queen's Beasts Complete Set Of 1/4oz Gold Coins + 1oz Gold Completer Coin

£ 6,800.00

queens beasts 1/4 oz gold coin Lion of England. Original 2016 issue in capsule

£ 490.00

2021 Queen's Beast Completer 1oz Gold Coin

£ 1,937.77

2018 Great Britain 1/4 Ounce Gold Queen's Beasts The Bull Nice Uncirculated Coin

£ 476.00

1/4oz gold coin. Queens beasts gold coin. Lion of England queens beasts gold

£ 515.99

Queens Beasts All together 11 Gilded Silver 2 Oz Collection Boxed

£ 1,549.99

2021 Gilded Silver 2 Oz Queens Beasts All in One Completer 2nd Edition

£ 174.99
---
List of items on:


eBay UK


eBay USA
---