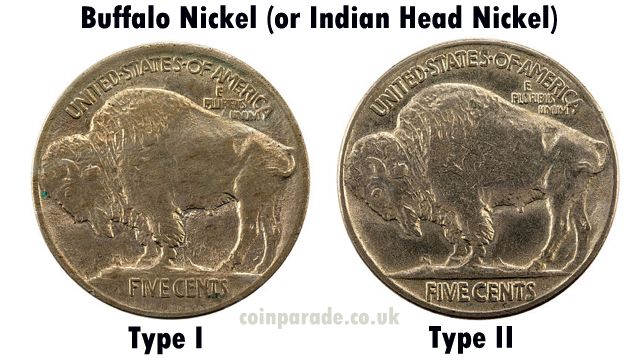 The Buffalo Nickel, also known as the Indian Head Nickel or 5 cents was introduced in 1913 replacing the Liberty Head Nickel. It ran from 1913 until 1938. It was made at the Philadelphia, Denver and San Francisco Mints.
In the early 1900's, there was an effort to beautify the American coinage and Charles Earle Barber (1876-1953) was asked to make a new design for the 5-cent nickel. Barber was an American sculptor and has many famous works around Washington DC.
Barber decided that the obverse would be the right profile of an American Indian. He based the head on 3 or more people, although over the years several sole individuals have claimed to be the model.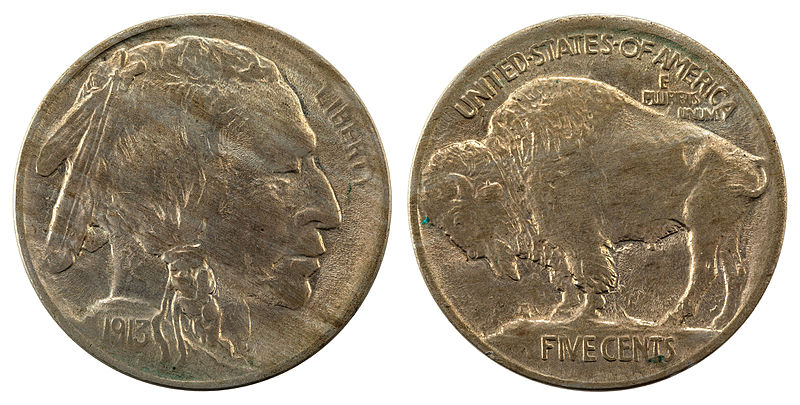 For the reverse, Fraser chose a Buffalo (or American Bison). It is citied that the model for the coin was a popular buffalo in the New York Central Park Zoo named 'Black Diamond' but others cast doubt on that.
Problems
The 75 mm diameter coin entered production on 22 February 1913 and released on 4 March 1913. They almost immediately had a problem. The coin was 75% copper and 25% nickel which is quite a soft alloy and the raised areas of the coin (especially the date) were easily worn away.
In the same year (1913) the Type II Buffalo Nickel was released. Similar to the original (Type I), the design was changed so that the buffalo was on flat ground rather than on a raised mount and other minor changes were made to make the coin more durable.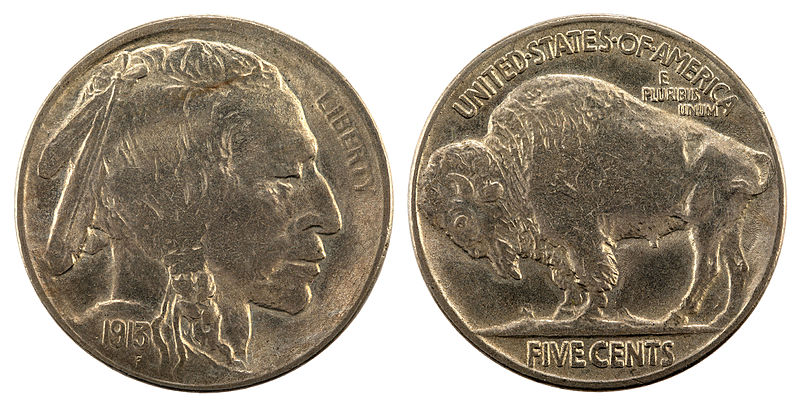 The coins were made at Philadelphia (P), Denver (D) and San Francisco (S) in quite large numbers so nickels from this period are well affordable to collectors. The mint mark can be found on the reverse under the FIVE CENTS words. No mint mark is Philadelphia Mint.
3-Legged Buffalo
Due to an error when modifying the Denver dies in 1936, the buffalo appears to have only 3½ legs and in the 1937-D it lost the leg completely. The 3-1/2 and 3-leg coins have $500+ price tags, going to 5-figures for mint examples, but watch out for fakes here.
Despite the changes, wear was always a problem with this design and in 1938 (the expiration of the minimum 25 years during which design could not be replaced except by Congress) the coin was replaced with the Jefferson Nickel.
Fraser's design can still be seen on the American Gold Buffalo and some other commemorative coins.
---
List of items on:
---


On eBay UK:
---
US Buffalo Indian Head Nickels / CHOSE YOUR DATE/ US 5 cents/ Toning/ Circulated

£ 1.79

50 Buffalo Nickels Various Dates & Condition Indian Head 5 Cent Job lot

£ 20.00

USA - NICKEL - 5c - INDIAN HEAD / BUFFALO NICKEL - UNDATED

£ 2.15

USA Buffalo Nickel Indian Head 5 Cents Mixed Dates/Grades Pick the coin you want

£ 10.00

1913-1938 BUFFALO INDIAN HEAD NICKLE USA 5 CENT COIN IN PRESENTATION PACK

£ 9.99

*GENUINE* 1913 USA FIVE CENT NICKEL COIN BUFFALO INDIAN HEAD

£ 49.95

1930 BUFFALO NICKEL INDIAN HEAD 5 CENTS USA BEAUTIFUL COLLECTIBLE COIN #WT33455

£ 10.49

1920 BUFFALO NICKEL INDIAN HEAD 5 CENTS USA BEAUTIFUL COLLECTIBLE COIN #WT36841

£ 10.49
---
List of items on:
---