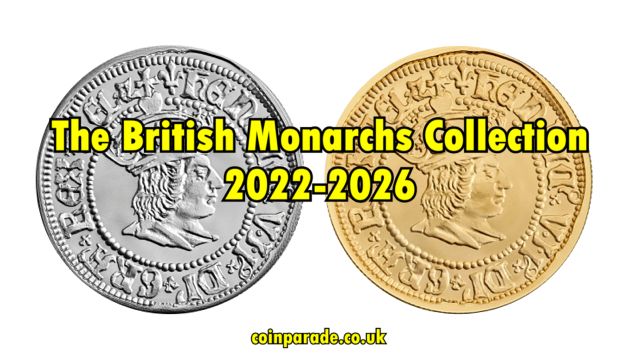 The British Monarchs Collection 2022-2026
The first coins of the British Monarchs Collection were released on 24 January 2022. At least four coins in this collection will be released every year from 2022 to 2026 inclusive and will include Monarchs from Tudor, Stuart, Hanoverian and Windsor (Saxe-Coburg-Gotha).
This was the first coin to be released in the Royal Mint's British Monarchs Collection features King Henry VII, the first of the House of Tudor. The Reverse of the coin, designed by Alexander of Bruchsal, shows a portrait of King Henry VII as it would have appeared on a (hammered) coin during his reign 1485–1509.
The British Monarchs Collection will offer a variety of coins, such as the silver coin as 1oz, 2oz and 5oz, the gold coin as 1oz, 2oz and 5oz, and as a 2-coin gold set.
The 21-coin British Monarchs Collection proposed release schedule is:
January 2022 – King Henry VII (Tudor)
March 2022 – King James I (Stuart)
June 2022 – King George I (Hanoverian)
September 2022 – King Edward VII (Saxe-Coburg-Gotha)
January 2023 – King Henry VIII (Tudor)
March 2023 – King Charles I (Stuart)
June 2023 – King Charles II (Stuart)
September 2023 – King George II (Hanoverian)
January 2024 – King Edward VI (Tudor)
March 2204 – King James II Stuart March
June 2024 – King George III (Hanoverian)
June 2024 – King George IV (Hanoverian)
September 2024 – King George V (Saxe-Coburg-Gotha/Windsor)
January 2025 – Queen Mary I (Tudor)
March 2025 – King William III and Queen Mary II (Stuart)
June 2025 – King William IV (Hanoverian)
September 2025 – King George VI (Windsor)
January 2026 – Queen Elizabeth I (Tudor)
March 2026 – Queen Anne (Stuart)
June 2026 – Queen Victoria (Hanoverian)
September 2026 – Queen Elizabeth II (Windsor)
More Details check the Royal Mint website
---
List of items on:
---


On eBay UK:
---
2022 Royal Mint British Monarchs King James I - 1 oz Silver Proof Coin

£ 155.00

2022 Royal Mint British Monarchs King James I - 1oz Silver Proof £2 Coin

£ 169.50

British Monarchs King Henry VII 2022 UK 2oz Silver Proof Coin royal mint

£ 199.00

NEW... 2022 Royal Mint, British Monarchs, King James I 2oz Silver Proof Coin.

£ 215.00

Royal Mint British Monarchs King James I 2022 UK 2oz Silver Proof Coin

£ 249.00

2022 Royal Mint British Monarchs King Henry VII UK 2oz Silver Proof £5 Coin

£ 694.95

Royal Mint 2015 The Longest Reigning Monarch-UK £5 Crown-Brilliant Uncirculated

£ 24.99

2015 Silver Proof Piedfort £5 Crown Coin Longest Reigning Monarch Royal Mint

£ 159.95
---
List of items on:
---