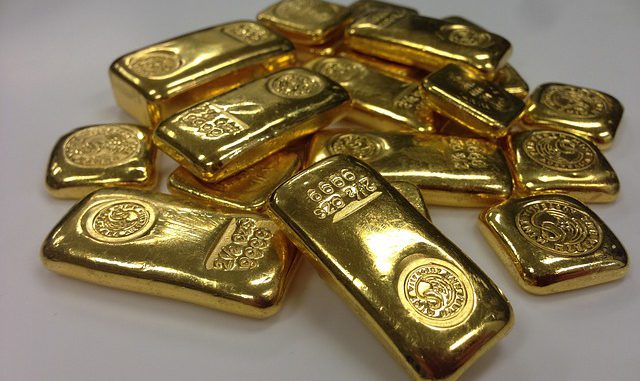 Gold is one of the oldest and most beloved commodities in the world. History is laced with the search for this precious metal. Through the ages, gold has had a number of varied uses including as jewelry and adornment of the body, as embellishment of art, as currency or trade, and, in recent times, as a component in the manufacturing of consumer goods.
As the most flexible and ductile metal, gold is often recycled, reused, and repurposed for different applications. It is most malleable in its purest state of 24k. Varying colors such as white or rose gold can be created by adding copper, silver, palladium, or nickel. You can determine whether your gold is a blend by looking at the stamped karat number on the piece in question (24k being pure, anything less, such as 22k, 18k, etc. would indicate a mix).
Because of its value, many gold owners look for the best way to sell the precious metal (particularly when they have broken or unwanted jewelry) to refineries in exchange for money. While you may be most familiar with this jewelry-refining scenario, there are numerous other gold items that can be recycled.
Here are ten fun facts about gold:
1. As of the beginning of January 2011, one ounce of pure 24k gold was worth more than the famed Golden Opulence Sundae from New York's Serendipity 3. The $1,000 sundae requires a 48 hour advance reservation and contains edible gold leaf in addition to 5 scoops of vanilla ice cream, chocolate, exotic candied fruits, truffles, caviar, and so much more.
2. The chemical symbol for gold is AU which is derived from the Latin word "aurum" which means "shining dawn". Considering all of the colors of the sunset and all of the color blends gold can take, this is quite an accurate observation.
3. The word "gold" comes from the Anglo-Saxon word "gelo" which means yellow.
4. Gold will never rust, because it cannot combine with oxygen in the atmosphere to form a gold oxide.
5. South Africa is the leading producer of gold.
6. Karats, the unit in which gold is measured, is a measurement of mass and was originally based on the carob seed used by ancient merchants.
7. Gold is so soft that it can actually be hand hammered so thin that the sun's rays can radiate through it.
8. Gold leaf, as very fine sheets of gold are called, is also edible and has been used for everything from cake decoration to embellishing ice cream sundaes.
9. In the past, gold was held in such high regard that it was added to food because it was believed that it would lead to eternal life.
10. It is said that Egyptians were the first to use gold for jewelry. The Egyptians not only used gold for adornment, many pharaohs were buried with elaborate gold facemasks and their treasures to assure a happy after life.
As time progresses, more exciting uses for gold will surface, fueling even higher demand. Consumers around the globe and throughout time have learned to love gold and will undoubtedly continue to do so in the future. In fact, the demand for gold rises cyclically in December because gold jewelry is such a popular holiday gift. Jewelers flood the marketplace with advertisements and promotions while gold refineries melt down and recycle old gold pieces. In either case, gold is and will continue to be known as one of the most useful and loved precious metals in the world.
Manhattan Gold & Silver, located at 45 West 47th Street, in the Diamond District of New York City, is the trusted precious metal refiner for jewelers, dentists, pawnbrokers, and other industry specialists across the United States with products involving precious metals. Manhattan Gold & Silver is known for their honesty and fair prices for precious metals.
Article Source: Ten Surprising Facts About Gold
---
List of items on:
---


On eBay UK:
---
2022 .916 PURITY GOLD, QUARTER SOVEREIGN

£ 125.00

Fantastic 1883 Queen Victoria Shield Back 22ct Gold Full Sovereign Coin

£ 425.00

Gold Full Sovereign - Best Value Bullion £363 / Sovereign

£ 436.00

1886 Gold Sovereign Victoria Young Head St George Melbourne Mint

£ 550.00

Queen Victoria Coin Pack - Gold Sovereign

£ 4.99

1912 Full Gold Sovereign

£ 500.00

The Platinum Jubilee Celebration 22 Ct Gold Sovereign - Date Stamped 06/02/2022

£ 700.00

2015 Elizabeth II 22ct Gold Proof Quarter Sovereign, Limited Edition

£ 180.00
---
List of items on:
---