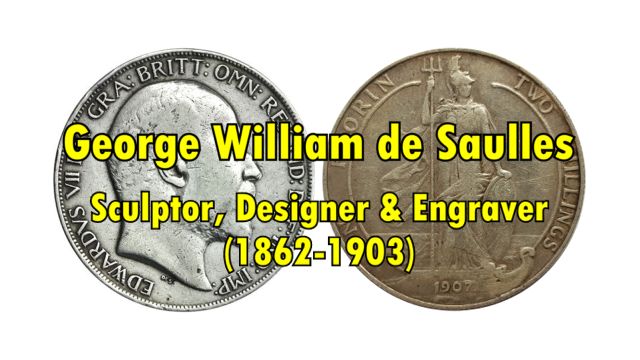 by Ms Deborah Tout-Smith Senior Curator of Home & Community Life at Museums Victoria.
George William de Saulles served as assistant to Leonard Charles Wyon at the London Mint and in 1892 was appointed chief engraver, serving until 1903. He designed and engraved coins used in many countries. He signed with "DES", "DS", or "WS".
De Saulles was born on 4 February 1862 in Birmingham. His grandfather was a Swiss immigrant, and his father settled in Birmingham as a glass merchant. From an early age de Saulles attended the Birmingham School of Art, and won several prizes. He was then apprenticed to a Mr Wilcox, a die-sinker, in Birmingham, then in 1884 moved to London. Here he worked for John H. Pinches, medallist and die-engraver. Four years later he returned to Birmingham and worked for the similar enterprises of medallist Joseph Moore.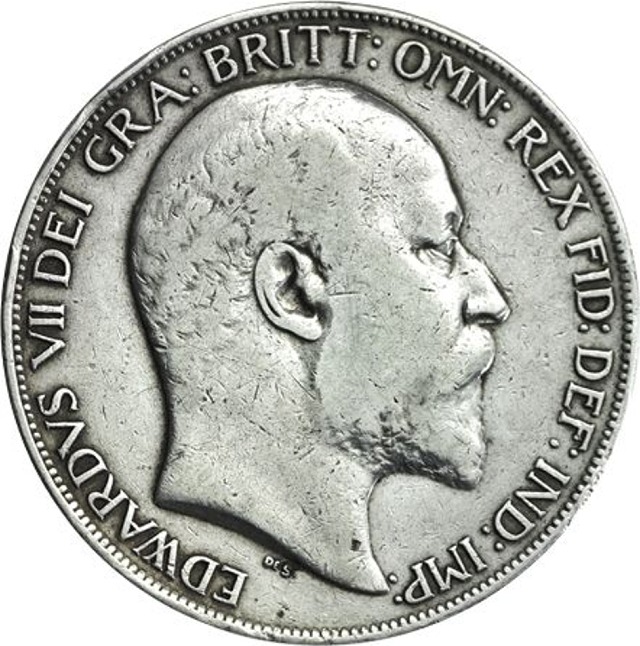 In 1892 de Saulles was appointed to the Royal Mint in London. His skill made him was an obvious choice for the post of Chief Engraver at the Royal Mint, succeeding Leonard Charles Wyon. He executed the dies, to the design of Thomas Brock, for the issue of the coinage of the following year; he also designed and executed the coinage for Edward VII in 1902. In January 1893 he was gazetted 'engraver to the mint', and for the rest of his life was actively engaged in the production of dies for English and colonial coins and for official medals. He married Myra Hill in June 1884; they had no children.
De Saulles was a skilful craftsman who worked with great speed. He designed, modelled and engraved most of his dies. He was in some degree influenced by the French school of Oscar Roty and Chaplain, but in his official work there was no real scope for innovation. He died at Chiswick, after a few days' illness, on 21 July 1903.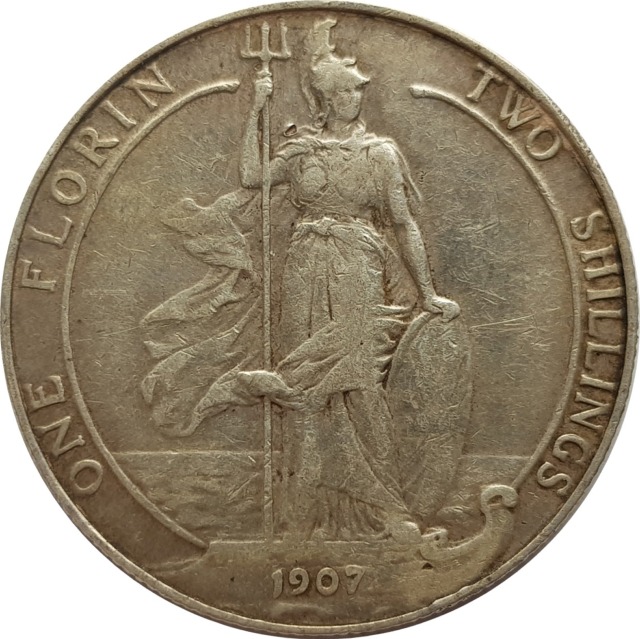 His work included the following:
Designed Jersey obverse 1909 coins
Designed Great Britain obverse 1902-1910 coins and reverse for the shilling, florin, and half crown.
Designed Australia obverse 1910 3 and 6 pence, shilling, and florin
Designed British Guiana obverse 1903-1910 4 pence
Designed British India obverse 1902-1910 coins
Designed Canada all obverse coins 1902-1910
Designed Ceylon all obverse coins 1902-1910
Designed Cyprus obverse 1901-1908 coins
Designed East Africa reverse 1897-1899 pice, reverse 1912-1918 25 cents, reverse 1911-1919 50 cents 1906-1910 25 and 50 cents
Designed Hong Kong obverse 1902-1905 coins
Designed Jamaica obverse 1902-1910 coins
Designed Newfoundland obverse coins 1903-1910
Designed Strait Settlements obverse 1902-1910 coins
References:
Pinches. John H. (1903). Memoir in Numismatic Chronicle, pp.311-313 (private information supplied by him).
Hocking's Catalogue of Coins in Royal Mint, 2 vols. 1906-10.
Forrer's Biog. Dict. Of Medallists, 1904.
Annual Reports of Deputy-Master of the Mint. Http://www.pearce-bennett.freeserve.co.uk/ancestors/desaulle/gwdes/, accessed 8/1/2004.
H.K. Fears website http://hiwaay.net/~hfears/pen12/misc/des.htm, accessed 8/1/2004.
Article creadit: Tout-Smith, D. (2004) George William de Saulles, Sculptor, Designer & Engraver (1862-1903) in Museums Victoria Collections https://collections.museumsvictoria.com.au/articles/1994
Images credit: M J Hughes Coins.