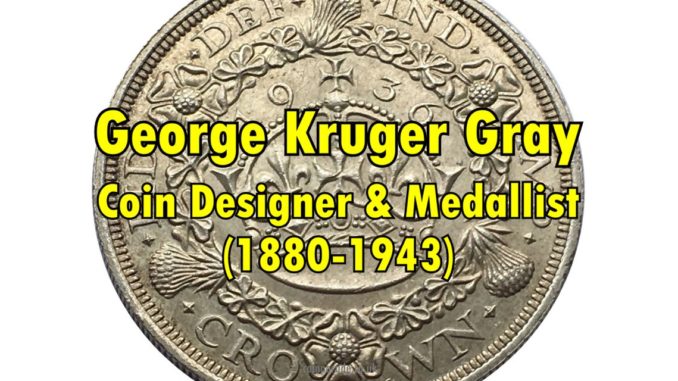 by Ms Deborah Tout-Smith, Senior Curator of Home & Community Life at Museums Victoria
George Kruger Gray was a designer, painter and medallist. He was born George Edward Kruger, and graduated from the Royal College of Art. After his marriage in 1918 he adopted his wife's surname.
Gray was a leading designer for the Royal Mint. He mostly designed coin reverses which he signed "KG" or "G".
He designed the following:
Australia (All reverse) 1939-1964 1/2 penny, 1938-1964 penny and 3 pence. 1938-1963 shilling, 1927 commemorative Florin, 1934-35 commemorative florin, florins: 1938-47, 51-54,56-63, 1937 crown.
For Bermuda designed reverse 1964 crown.
For Canada designed reverse 1937 to present penny and nickel, 1937-1958 50 cents.
For Cyprus designed reverse 1938-1940 9 and 18 piastres, 1928 45 piastres, 1947-1949 florin.
For Great Britain designed 1927-1945 3 pence, 1927-1952 six pence, half crown, 1937-1951 shilling and florin, 1927-1936 crown (except for the 1935 Jubilee crown), 1937 crown.
For Mauritius designed 1 cent, 2 cents, 5 cents, 1/4 and 1/2 rupee 1942-1978 10 cents 1947-1978.
For New Guinea designed 1936-1944 penny, 3 pence, 6 pence, and shilling.
For New Zealand designed 3 pence, 6 pence, shilling, florin, and half crown reverse 1933-1965.
For South Africa designed reverse farthing, half penny, penny, 3 pence, 6 pence, shilling, florin, and half crown 1923-1960, reverse 1960 crown. Reverse 1961-1941 half, two and half, five, ten, and twenty cents.

In 1929 Gray also designed a Coat of Arms for Western Australia. He modelled the The British (Imperial) George Medal (established 1940) after a bookplate by Stephen Gooden for the Royal Library, Windsor. His other work included the stained glass windows in the Manchester Town Hall, England, and carved and painted screens behind the altars in the chancel and south chapel in St Mary's church in Princes Risborough, England.
Article Source: Tout-Smith, D. (2004) George Kruger Gray, Designer, Painter & Medallist (1880-1943) in Museums Victoria Collections Accessed 31 March 2021. Text content of this article is licensed under a Creative Commons Attribution 4.0 International licence.