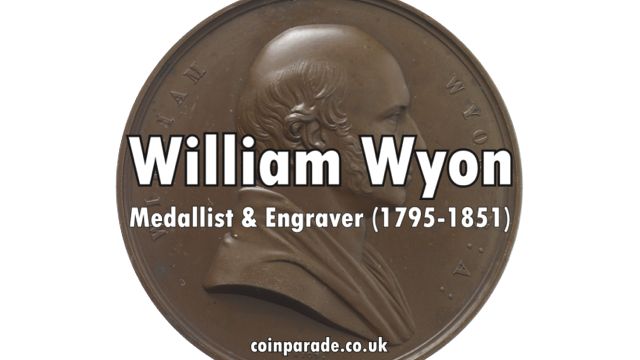 by John Sharples, Curator Emeritus at Museums Victoria
William Wyon, the most famous of the Wyon family of medallists and engravers was born in 1795 in Birmingham where his father, Peter Wyon, was a die engraver. In 1809 William became apprenticed to his father who was apparently then working with Matthew Boulton at the Soho Mint, Birmingham.
In 1812 William visited London, where his uncle Thomas Snr., who had been in business with his father in the 1790s, encouraged him to enter a die competition at the Society of Arts. William was successful in that competition but returned to Birmingham and continued working with his father. In 1815 his uncle and cousin, Thomas Snr. and Thomas Jnr., were finding good employment at the Royal Mint and William returned to London to assist. In 1816 Thomas Jnr was appointed Chief Engraver at the mint, and William after a competition was appointed as Second Engraver. By the end of the year Thomas Snr. was appointed Chief Engraver of His Majesty's Seals.
The Chief Engraver, Thomas Wyon Jnr died in 1817 and Benedetto Pistrucci, whose designs for the new coinage Thomas had been engraving, was appointed to the vacant office. This appointment was resisted by the moneyers and difficulties arose between William Wyon and Pistrucci. It was not until 1828 that a solution was found with William being appointed Chief Engraver and Pistrucci Chief Medallist.
Wyon is listed as the engraver of at least 43 different coins struck for circulation in England. His portraits of Queen Victoria were used on all British coinage until 1887 and for all postage stamps until 1902. He also prepared numerous coin dies for the British Territories, including the West Indies, British India, Ceylon, Gibraltar, Hong Kong, Isle of Man, Ionian Islands, Ireland, Jersey, Malta, Mauritius, New Brunswick, Penang, Straits Settlements and New Granada.
William died on 29 October 1851; his elder son Leonard Charles Wyon succeeded him as Chief Engraver at the Royal Mint.
Article reference: Sharples, J. (2010) William Wyon, Medallist & Engraver (1795-1851) in Museums Victoria Collections
---
List of items on:
---


On eBay UK:
---
William Wyon, Victoria & Albert 200th Anniversary 5oz Silver Proof £10 Coin. FDC

£ 595.00

William Wyon. Queen Victoria & Albert 200th Anniversary 5oz Silver Proof Coin

£ 1,295.00

2021 St. Helena Masterpiece Three Graces William Wyon 1oz Silver Proof £1 Coin

£ 129.50

1795-1851 WILLIAM WYON BICENTENARY MEDAL - PHILATELIC MEDALLIC COVER PNC & INFO

£ 9.99

1831 CORONATION OF WILLIAM IV OFFICIAL SILVER MEDAL - BY WYON

£ 325.00

2020 Great Engravers - William Wyon - Three Graces 2oz £200 Gold Proof Coin PF7

£ 23,500.00

Great Britain 1830 ACCESSION OF William IV by William Wyon bronze 68mm BHM 1414

£ 307.91

1995 William Wyon RA Bicentenary Cover & Medallion SNo46237

£ 7.95
---
List of items on:
---