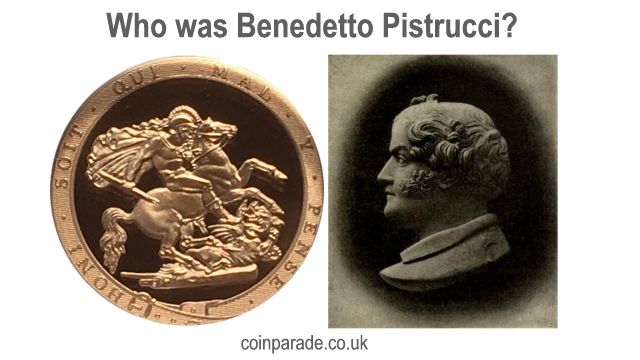 Benedetto Pistrucci (1783-1855) was an Italian engraver and medallist who is probably most widely known amongst numismatists as the designer of the famous George and the Dragon image shown on the gold sovereign reverse.
Early Promise

Born in Rome on 29 May 1783, Pistrucci had artistic talent from an early age and was taking commissions for cameos by the age of 15. His early clients included Napoleon's three sisters and Elisa, the Grand Duchess of Tuscany.
Pistrucci married Barbara Folchi in 1802. She was the daughter of a well-to-do merchant and they went on to have nine children together.
Pistrucci's father, Federico, was a senior judge. Federico had prosecuted Bonapartist rebels and as Napolean became more and more powerful in Europe, Federico became a marked man and decided it best to move the family to a safer country.
A New Home in England
In 1815, Pistrucci arrived in London. Although Pistrucci was temperamental and fell out with several of his associates, he also had connected friends and he quickly found work.
One of his first commissions was a cameo of George and the Dragon for Lord and Lady Spencer. Pistrucci used an Italian waiter he had met in London as the model for St George.
Pistrucci was soon commissioned to create a cameo of King George III. When the Master of the Mint, William Wellesley-Pole (brother of the Duke of Wellington) saw it he was impressed.
The Royal Mint was preparing new coins for the Great Recoinage of 1816 and they soon employed the talents of Benedetto Pistrucci, who was said to have been promised the post of next Chief Engraver of the Mint.
St George and the Dragon
In the Great Recoinage, the Gold Sovereign would replace the Guinea as the one-pound coin. Pistrucci suggested to Pole that St George (who is the Patron Saint of England) would be an appropriate subject for the new one pound gold coin.
Pistrucci had a fee of 100 guineas (£105, probably equivalent to about £8,500 today). After a few heated discussions, Pistrucci decided to both design and engrave the piece himself.
The first images showed St George killing the dragon with a broken spear (called Ascalon) but in later images this was changed to a short sword.

In 1817 the Chief Engraver of the Mint, Thomas Wyon Sr, died and Pole probably wanted Pistrucci as the new Chief. Unfortunately a law passed under William III barred foreigners from the post, and so Pole left it vacant and made Pistrucci the de facto Chief Engraver, together with the £500 annual salary. Pistrucci accepted, but dearly wanted the title and was far from happy about the situation.
Strangely, the St George and the Dragon design was not as popular when it was first released as it is now.
George and the Dragon was not used on the Sovereign between 1825 and 1871 (they were Shield backs) but that was more of a general design decision rather than personal conflicts. The George and Dragon design has been used on other coins, such as the Crown.
The Waterloo Medal
In 1819, Pistrucci was awarded the commission to design the Waterloo Medal. This was to be a large (130 mm diameter) medal to be awarded to the Generals and leaders who had defeated Napoleon.

The commission fee was £2,400 which would be nearly £200,000 today.
The medal was originally supposed to be designed by John Flaxman, but Pistrucci refused to engrave the work of another artist so was allowed to go it alone. The decision pitted most of London's Art establishment against Pistrucci.
Trouble at Mint
When George IV succeeded George III in 1820, matters only became worse. The new King did not like Pistrucci or his work. Pistrucci also made many enemies at the Mint and refused to work with other artists.
Pistrucci knew that he would be fired after the completion of the Waterloo Medal so he took his time – and spent 30 years on it!
The Mint didn't want to get rid of Pistrucci too early as they had paid a lot of money in advance fees.
Pistrucci's fee was dependant on him training an apprentice, so he named his own sons as successive apprentices. That didn't go down well either.
Later Life
Pistrucci was friends with Princess Victoria of Kent (who became Queen Victoria in 1837). Victoria had several cameos made by him and she asked him to sculpt a Coronation medal.
The problems, sometimes made public, between Pistrucci and William Wyon continued into the late 1840s.
In 1844 William Gladstone, then Master of the Mint, offered Pistrucci £400 to finish the Waterloo Medal. All the recipients, except the Duke of Wellington, were already dead.
Pistrucci had been ill for some time and despite lacking enthusiasm finished the medal in 1849 and moved from the Mint, although in 1848 a Royal Commission on Mint reform did allow Pistrucci to be named as modeller and engraver to the Mint and to some extent settle old grievances.
Benedetto Pistrucci died on 16 September 1855 at his home near Windsor, and is buried at Christ Church, Virginia Water, Surrey.
Image credit: M J Hughes Coins.
---
List of items on:
---


On eBay UK:
---
1886 Gold Sovereign Victoria Young Head St George Melbourne Mint

£ 550.00

1879 Gold Sovereign Victoria Young Head St George Melbourne Mint

£ 600.00

2022 GIBRALTAR 22 CARAT GOLD, ST GEORGE SAVING THE PRINCESS BU QUARTER SOVEREIGN

£ 127.99

1886 Gold Sovereign Victoria coin - St George Melbourne - Britannia

£ 435.00

Full gold proof Sovereign "St George and the Dragon" one out of 499 ever made

£ 620.00

2017 BU Plain Edge St George and the Dragon Benedetto Pistrucci Gold Sovereign

£ 1,282.50

1887-S Australia Gold Sovereign Young Head & St. George NGC AU55 Sov

£ 488.00

GOLD Sovereign 1958 ElizabethII Young Head St George Spink4125 High Grade,Boxed

£ 539.00
---
List of items on:
---