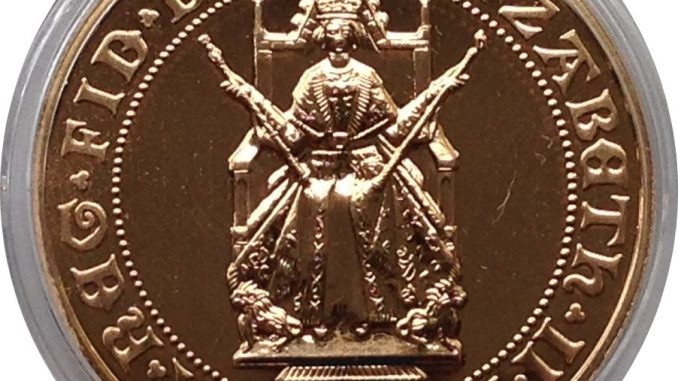 The Trial of the Pyx is an annual ceremony conducted since the 12th century in which the coins of the UK (minted by the Royal Mint) are tested to check if the coins have the correct metallic content, weight and size.
The trial is an actual trial in the judicial sense and is presided over by a Judge with a jury of expert metallurgical assayers. The Judge is the Queen's Remembrancer (or King's Remembrancer), which is an ancient and very high judicial post in the legal system of England and Wales.
A number of samples of each coin type in production are delivered to the trial in a boxwood chest known as a "Pyx". The samples (probably over 50,000 in total) are given to a selected group of experts from the financial sector and at least six assayers from the Worshipful Company of Goldsmiths who are then given two to three months to ascertain if the coins meet the specified standards and to give their verdict.
A "trial plate" is also used, which is a piece of pure metal (gold, silver, platinum, copper, nickel and zinc) that are used in the composition of the coin. The experts may cut pieces off the trail plate to make comparisons with the material used in the coin.
Originally, the Trial of the Pyx took place at the Palace of Westminster and the boxes were stored in the Pyx Chamber in Westminster Abbey. Now it is held at the Hall of the Worshipful Company of Goldsmiths (Goldsmiths Hall) in London. The trial takes place early in the year.
Effectively, it is the Royal Mint that is on trial. Originally the tests were because the King wanted to check if the Mint employees were not stealing precious metal from him. Today it is part of government audit.
Although in the past a few discrepancies have been unearthed, it would be unlikely that there would be problems today. The Royal Mint has ISO 9001 accreditation and has very high standards, as well as considerable pride in its work.
---
---
List of items on:
---


On eBay UK:
---
2019 Royal Mint Queen Victoria Piedfort Silver Proof £5 Trial Of The Pyx 1 Of 6

£ 995.00

2016 Great Britain Gilt Silver Proof £2 Shakespeare TRIAL OF THE PYX COA (1/9)

£ 515.00

2019 Royal Mint 100th Anni Of Remembrance Day Silver Proof £5 Trial Of The Pyx

£ 995.00

2016 Silver Proof £5 Snowdonia Trial of the Pyx NGC with COA (1 of only 9)

£ 750.00

2016 UK Silver Proof 1p NGC PF65UC TRIAL OF THE PYX COA (1 of only 9 minted)

£ 495.00

1 of 6 Trial of the Pyx 2019 1oz gold britannia

£ 4,999.00

2016 Great Britain Silver Proof £5 Lake District Trial of the Pyx (1 of 10)

£ 510.00

2016 Great Britain Silver Proof £5 White Cliffs of Dover TRIAL OF THE PYX (1/10)

£ 515.00
---
List of items on:
---