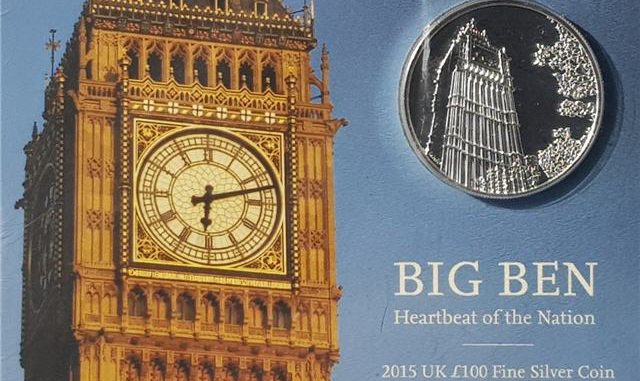 by Les Kendall
How much would you pay for a (Legal Tender) Silver One Hundred Pound Coin? If you think £100 or more then there's probably lots of sellers who would like to meet you. The reason why may well shock you.
The Silver One Hundred Pound Coin
Back in 2015 the Royal Mint decided to launch a one hundred pound coin (£100). The coin, issued only in BU, was slightly larger than a crown with a 40 mm diameter and made from 62.86 g (2.217 oz) of fine (0.999) silver.
Although intended as a commemorative coin and not for circulation, the one hundred pound coin is legal tender.
Theme and Designs
The theme of the coin was famous London landmarks. Three coins were eventually minted and all the Reverses were designed by Glyn Davies and Laura Clancy.
The first design, dated 2015, showed an image of Big Ben (it's actually an image of Elizabeth Tower which houses the bell called Big Ben). The Obverse was the portrait of Queen Elizabeth II by Ian Rank-Broadley. Mintage was 50,000.

Before the end of 2015 another one hundred pound coin was minted, this time the Reverse was Buckingham Palace. The Queens portrait was changed to the new design by Jody Clark. Again, mintage was 50,000.
In 2016 a third design was launched, Trafalgar Square, with a mintage of 45,000.
A Marketing Success
The Royal Mint made what seemed like a good offer: £100 for a £100 coin and free delivery. Reasonable, as the silver content at that time was probably worth less than £30.
The £100 coin was an instant success. The Royal Mint sold out Big Ben in just 11 days and the coin was being offered on eBay for £130-150.
A Cunning Plan
Rumours started to fly that there was a way to play the system here. £100 for a £100 legal tender coin and no postage? Credit Cards offering rewards?
Why not buy a coin with a credit card, take the coin to the bank to pay the credit card bill, and then keep the rewards for free?
And so many did. Some maxed-out their credit cards and bought thousands of pounds worth of £100 coins and took them to the bank the next day, cashed them in and paid their credit card immediately so no interest would be added.
One person was rewarded with enough air miles to get a business class trip for two to Hong Kong and back. And it was totally free.
A Cunning Plan goes Wrong
The Royal Mint was getting lots of £100 coins coming back via the banking system and it didn't take them long to realise there was some type of ruse going on.
It's not actually an illegal scam, but they didn't like it. So the Royal Mint instructed the banks NOT to exchange high value coins (£100, £50 and £20) for cash.
The price of the one hundred pound coin plummeted. The silver scrap price of the coin was less than 50% of the coin's face value.
It turned out to be a disaster to speculators who were now left with lots of high-value coins and no-where to go to. It was also very bad for collectors as their investment sank, and to dealers who lost their market.
What about Face Value and Legal Tender Status?
The controversial point here is that £100 was paid for a coin that is denominated with a face value of £100 and is issued as Legal Tender. It turns out that these terms mean much less than you may think.
'Legal Tender' has quite a narrow, technical definition in law and basically means that it is an acceptable way to pay debts in a court of law. 'Face Value' is little more than a suggestion of what the value of a coin should be.
The bottom line is that just because a coin is legal tender does not mean that you or anyone else are required to accept it as payment. Even banks accept coins entirely at their own discretion – they are not obligated to do so.
For information, British Banknotes are different. Notes are issued by the Bank of England and have the pledge "I promise to pay the bearer on demand..". Banknotes, whatever their age or condition, even those no longer in circulation are ALWAYS redeemable at the Bank of England for the face value of the banknote. In the old days it was actually the amount in gold, but nowadays it is exchanged for other banknotes of the same value. Coins do not have this guarantee.
Should I Buy a One Hundred Pound Coin?
If you like the coin and need one for your collection then you should buy one. There's nothing wrong with the coin, but just bear in mind the story above. The £100 coin is often offered for less than its face value. The same applies to the £50 and £20 coins. They are sold as commemorative coins; don't expect to use them as you would cash.
If you are selling a coin then the offer will probably be low, somewhere around the silver content price.
The good news is that this is a high value coin with a limited mintage, and an unknown amount have ended up in the melting pot. So at some point in the future the numismatic value is going to increase. If you can afford it, hold on to your one hundred pound coin for as long as you can.
Images are thanks to M J Hughes Coins.
You can buy or sell a  £100 coin at the M J Hughes Coins website, visit: http://mjhughescoins.com/product/2015-big-ben-silver-one-hundred-pounds/
---
List of items on:
---


On eBay UK:
---
Rare & Valuable UK 50p Coins Fifty Pence Circulated Beatrix Potter Olympics WWF

£ 3.55

50p COINS FIFTY PENCE,OLYMPICS,BEATRIX POTTER,COMMEMORATIVE,KEW COIN

£ 4.99

CHEAPEST 50p COINS FIFTY PENCE KEW GARDENS BEATRIX POTTER OLYMPICS BREXIT

£ 6.99

Rare 50p Coins Olympic Beatrix Potter Kew Isle of Man WWF Snowman Fifty Pence

£ 3.99

2022 50 years of Pride Brilliant Uncirculated 50p Coin With Coloured Decal

£ 14.99

2022 Platinum Jubilee HM Queen BU 50p Coin Pack Brilliant Uncirculated

£ 9.99

50P COINS CIRCULATED/UNCIRCULATED ROYAL MINT BRITISH COIN HUNT - VARIOUS

£ 4.49

RARE 50p COINS KEW GARDENS PETER RABBIT OLYMPICS BEATRIX POTTER BREXIT DIVERSITY

£ 6.99
---
List of items on:
---