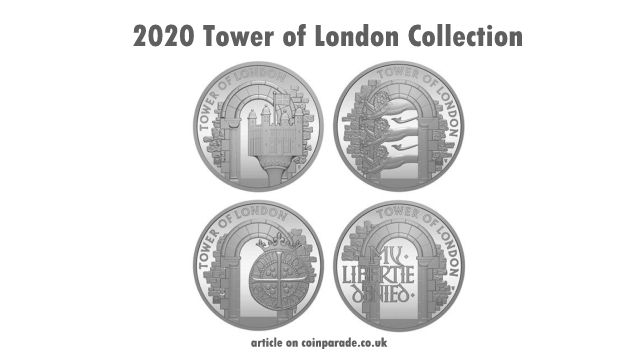 The 2020 Tower of London Collection concludes with the release of the fourth coin The Infamous Prison.
The Reverses for this 2020 series have been designed by professional calligrapher and heraldic artist Timothy Noad. Tim has designed a number of coins for the Royal Mint, including the impressive St George and the Dragon reverse on the 2005 Gold Sovereign.
As a central theme for the 2020 coins, each coin shows a Norman arched window in the background.
There are four coins in the 2020 series:
The coins are minted in BU, Silver Proof, Silver Proof Piedfort and Gold Proof. The coins were originally sold by the Royal Mint Shop

. There are already limited supplies.
The Infamous Prison
The fourth and final coin in the series shows the darker side of the Tower – as a prison. Many famous people (as well as the not so famous) have spent months or years in horrendous conditions at the Tower.
The Reverse shows an image of part of the Tower with the legend MY LIBERTIE DENIED. In the background a Norman arched window, the theme that runs through the 2020 Tower of London Collection.

The Obverse in each of the series shows a portrait of Queen Elizabeth II by Jody Clark.

Images used by permission of the Royal Mint

.
---
List of items on:
---


On eBay UK:
---
2020 SILVER PROOF £5 COIN TOWER OF LONDON COLLECTION THE INFAMOUS PRISON

£ 119.50

Coin Silver Proof Tower Of London £5 Collection 2020 Box COA Royal mint

£ 299.95

Rare Collection British Tower of London Silver Medal - 32mm

£ 15.99

2020 PIEDFORT SILVER PROOF £5 COIN TOWER OF LONDON COLLECTION THE ROYAL MINT

£ 160.00

2020 PIEDFORT SILVER PROOF £5 COIN TOWER OF LONDON COLLECTION THE WHITE TOWER

£ 155.00

2020 PIEDFORT SILVER PROOF £5 COIN TOWER OF LONDON COLLECTION INFAMOUS PRISON

£ 172.50

2020 PIEDFORT SILVER PROOF £5 COIN TOWER OF LONDON COLLECTION ROYAL MENAGERIE

£ 180.00

The Tower of London £5 coin collection acrylic display case for the 4 coin set *

£ 18.97
---
List of items on:
---