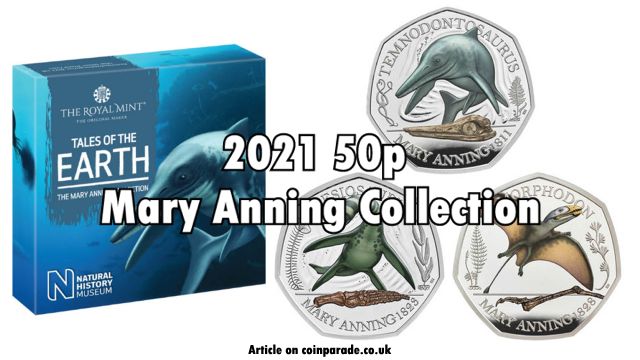 The Royal Mint Tales of the Earth series continues with the Mary Anning Collection of 50p coins.
Mary Anning (1799-1847) was an English fossil collector, dealer and palaeontologist. She discovered many marine fossils from the Jurassic period by searching the cliffs around the English Channel in Dorset (England). Mary's discoveries helped form the scientific thinking behind prehistoric life history.
Three coins are in this collection, which are available in BU, Silver and Gold, and with a colourised option too. The coins depict the Temnodontosaurus, Plesiosaurus and Dimorphodon, and are available as a set or as individual coins.
These coins are available from the Royal Mint Shop

.

Images Credit: The Royal Mint.