George VI (1936-1952)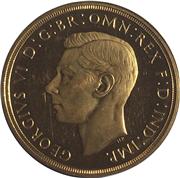 George VI was King of the United Kingdom and the British Commonwealth from 11 December 1936 until his death on 6 February 1952. He was the last Emperor of India and the first Head of the Commonwealth. His parents were George V and Mary of Teck.
George VI married Elizabeth (known as the Queen Mother) and is the father of Queen Elizabeth II.
Click to Check these on eBay UK