The 2022 1oz Gold Bullion £100 - Maid Marian
The second coin in the Royal Mint's Myths and Legends series follows on from Robin Hood with Maid Marian. Marian is the heroine and thought to be a high standing lady but one who cares for the people. There was a romantic connection between Marian and Robin.
Legend says Marian and Robin Hood lived around the 13th/14th century and lived in Sherwood Forest. The Robin Hood stories have some historic basis, but Marian does not seem to appear much in text before 1600.
The Myths and Legends collection include both silver and gold bullion coins. The gold coin is one troy ounce of 999.9 Fine Gold and has a diameter of 32.69mm. The coin is intended as a bullion coin and is denominated as £100.
The edge is milled.
The Reverse, designed by Jody Clark, shows Maid Marian hiding the in the thick greenery of Sherwood Forest.

The Obverse shows a portrait of Queen Elizabeth II by Jody Clark.
Image credit: The Royal Mint
Remember 2022 ?
In UK: The Monarch is Queen Elizabeth II. Prime Minster is Boris Johnson. Russia invades Ukraine, causing global tensions. Coronavirus is still a concern.
In USA: US President is Joe Biden (D-Delaware) and vice-president is Kamala Harris.
Elizabeth II (1952-Present)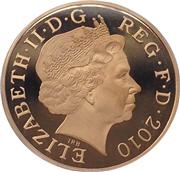 Queen Elizabeth II is the current and longest reigning monarch ever. Born on 21 April 1926 to King George VI and Elizabeth Bowes-Lyon, she became Queen in 1952 and her Coronation was on 2 June 1953.
Queen Elizabeth II has issued many coins and was monarch during decimalisation.
General Description: Gold Coins
This category is gold coins from around the World. Gold is a good investment and time and time again it has shown its durability even in difficult times. If you are buying gold coins as an investment, check which coins will give you the best tax advantages.
Which Mint: The Royal Mint
The Royal Mint is the designated place for the UK to mint coins. It dates back well over 1000 years and is a Government-owned company.
Formed in the reign of Alfred the Great about the year 886, during the period 1279-1812 it was generally referred to as
The Tower Mint
as it was housed at the Tower of London. The
Master of The Royal Mint
has included famous figures such as Sir Isaac Newton.
Since 2010 it has operated as Royal Mint Ltd, a company owned by HM Treasury, under an exclusive contract to supply all coinage for the UK although it also produces medals and coins for other countries. It is currently located at Llantrisant, Wales.
There is also an on-line shop at
The Royal Mint Shop

.
Country of Origin: United Kingdom
The United Kingdom (UK) is the Union of England, Scotland, Wales and Northern Ireland. It is often refered to as Great Britain (GBR). It has a long, rich history.
The orignal coinage was Pounds, Shillings and Pence but since decimalisation on 15 February 1971, it is £1 = 100p, that is One Pound = 100 pence. The coinage of the UK is also a long history, the Royal Mint being established as long ago as 886AD when coins were hammered. Today there is perhaps 30 billion coins in circulation, and many (numismatic) collectors coins and sets are issued frequently in gold, silver and other metals.
If you don't see a coin in the list below try the Gold Coins page on
eBay UK
---
List of items on:


eBay UK


eBay USA
---


On eBay UK:
---
2022 Gilded Silver One Ounce £2 Maid Marian Myths & Legends Edition

£ 96.99

BURNING MAID MARIAN 2022 1 oz Pure Silver Coin Black Ruthenium & 24K Gold Gild

£ 83.25

2022 Maid Marian Myths & Legends 1oz Gold Coin

£ 1,765.50
---
List of items on:


eBay UK


eBay USA
---