In the UK, before a coin may become legal tender it has to follow the
Coinage Act 1971
. What this means is that new coins have to be approved by the State before going into production. The UK government advices and the Queen must give her approval for this to happen by issuing a
Royal Proclamation
.
In May 2017,
The Gazette
published a Proclamation regarding a new coin which surprised many coin collectors:
a Piedfort Gold Sovereign
.
Piedfort coins are well known to Silver coin collectors. Piedforts are struck with the same die so look like normal coins but are TWICE as thick and therefore twice the weight. A first for the UK - a double thickness gold sovereign.

The word Piedfort is derived from the French meaning 'heavy measure' or 'heavy foot'. As French it should be pronounced '
Pee-ay-fore
' but you'll find most UK collectors and dealers pronouncing it phonetically
The reason for this new coin was said to celebrate 200 years of the 'modern' sovereign. It took the same reverse design as the 1817 sovereign (shown below, right) which was designed by Benedetto Pistrucci (1783-1855).
Except for the double thickness and double weight, this coin looks like a normal sovereign. When housed in a plastic coin capsule it is actually difficult to tell the difference.
The obverse is the portrait of Queen Elizabeth II by Jody Clark and the reverse shows Pistrucci's famous George and the Dragon inside a garter border. The edge is milled.

The mintage was limited to 3,750 with 3,500 of these being issued in special edition packaging. The Royal Mint made these available around July 2017 and offered at £800 they sold out very quickly and the street price doubled within days.
The image to the right is the reverse of the 1817 George III Gold Sovereign, the first of the 'modern' sovereigns. (
Public Domain images, Image Attribution: Classical Numismatic Group, Inc. http://www.cngcoins.com).

Piedfort Coins in General
The practice of making extra thickness coins is actually quite old, going back to the middle ages. Originally it was a French fashion that monarchs gave extra thick coins as gifts as a show of wealth, but in England we used them differently. At that time coins were minted at various locations around the country so when a new design was released the original engraver had to send out master samples (known as patterns) of the new coin to each of the regional mints. These patterns were made extra thick so not as to be confused with the actual circulation coins. The last Piedfort made for this reason was the 1588 sixpence.
Thick coins have been seen in other countries, usually minted for prestige purposes. There were very few English examples until 1982 when the Royal Mint made a 20p coin for public availability. This must have proved a success as the Royal Mint has issued Piedfort coins regularly since then.
Piedfort coins generally copy the usual circulation coins – they use the same dies – but are usually silver proof. Gold and Platinum make rarer appearances. The coins therefore have an appeal to not only collectors but also to investors who appreciate the extra weight of precious metal.
Click to Check these on eBay UK
Mintage:
3,750
(may include coins in sets)
Minted at
The Royal Mint
.
Remember 2017 ?
A UK June General Election results in a hung parliament. Prime Minister Theresa May confirms "Brexit means Brexit" as the UK continue negotiations to leave the European Union (EU). Donald Trump is inaugurated as the 45th President of the United States of America and Mike Pence as the 48th Vice President. President Xi Jinping heralds a "new era" for China. New 12-sided pound coin introduced into the UK. BBC announces the first ever female Doctor Who will be played by Jodie Whittaker. Leonardo da Vinci's painting "Salvator Mundi" sells for $450.3 million at auction in New York, a world record price. Prince Harry and Meghan Markle announce their engagement. Australia take an unassailable 3-0 lead against England in the Ashes. Bitcoin makes the headlines as the cryptocurrency rises over 1000% during the year.
Elizabeth II (1952-Present)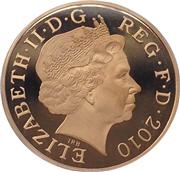 Queen Elizabeth II is the current and longest reigning monarch ever. Born on 21 April 1926 to King George VI and Elizabeth Bowes-Lyon, she became Queen in 1952 and her Coronation was on 2 June 1953.
Queen Elizabeth II has issued many coins and was monarch during decimalisation.
General Description: Sovereigns
The 2017 Piedfort Gold Sovereign is an example of the
Gold Sovereign
and is one of the most ubiquitous of all coins and much sought after by both coin collectors and bullion investors. Sovereigns have been minted since 1817 (in Britain 1817-1917, 1925 and 1957 on). At coins fairs you often hear the dealers refer to these coins as
Sovs
.
Besides being minted in Britain, Sovereigns have been made in Australia (Melbourne, Sydney, Perth), India (then Bombay, now Mumbai), Canada (Ottowa) and South Africa (Pretoria) although these regional mints have not made sovereigns since 1932. The non-British coins carry a small mintmark ('S','M','P','I','C' or 'SA') just above the date. This 2017 Piedfort Gold Sovereign was minted at The Royal Mint.
The Obverse is the Monarch's head (Elizabeth II) and the Reverse is most often St George and the Dragon, although other backs have been used and are of interest to collectors. The Reverse often gives the Sovs a new term, like "ShieldBacks".
Specifications for the Gold Sovereign
Weight: 7.9881g
Diameter: 22.05 mm
Thickness: 1.52 mm
Purity: 22 carat = 91.67% (11/12ths gold, 1/12th copper. Adding copper makes the coin more scratch and dent resistant)
Gold Content: 113 grains = 7.3224 g = 0.2354 troy ounce
Face value: £1 = 20 shillings
Monarch: Elizabeth II
History



Up until 1604 there was a coin called the English gold sovereign and in 1816 when there was the "Great Recoinage" the name was revived. At that time standard gold (22 carat) was valued at £46 14s 6d per troy pound; this meant a £1 coin needed to weigh 123.2744783 grains or 7.988030269 g. The weight is still the same today.

As a historical note: to maintain the Gold Standard, in 1816 the value of silver was set at 66 shillings for one troy pound and silver coins were only legal for denominations up to £2.

The first sovereigns carried the head of King George III and the famous George and the Dragon design by Benedetto Pistrucci (29 May 1783 – 16 September 1855), an Italian engraver who became chief medallist at the Royal Mint.

With high value coins such as the 2017 Piedfort Gold Sovereign, collectors and bullion investors often worry about forgeries but actually gold coins are very difficult to forge due to gold's unique properties of density and colour. Gold is extremely dense and to use another metal and gold-plate it would result in a coin that is under-weight, over-diameter or half as thick, something that would be spotted very easily. More difficult to spot would be a bullion coin melted down and re-cast as a highly collectable date, but an expert can usually tell these too. You should always use reputable dealers.
Which Mint: The Royal Mint
The Royal Mint is the designated place for the UK to mint coins. It dates back well over 1000 years and is a Government-owned company.
Formed in the reign of Alfred the Great about the year 886, during the period 1279-1812 it was generally referred to as
The Tower Mint
as it was housed at the Tower of London. The
Master of The Royal Mint
has included famous figures such as Sir Isaac Newton.
Since 2010 it has operated as Royal Mint Ltd, a company owned by HM Treasury, under an exclusive contract to supply all coinage for the UK although it also produces medals and coins for other countries. It is currently located at Llantrisant, Wales.
There is also an on-line shop at
The Royal Mint Shop

.
Country of Origin: United Kingdom
The United Kingdom (UK) is the Union of England, Scotland, Wales and Northern Ireland. It is often refered to as Great Britain (GBR). It has a long, rich history.
The orignal coinage was Pounds, Shillings and Pence but since decimalisation on 15 February 1971, it is £1 = 100p, that is One Pound = 100 pence. The coinage of the UK is also a long history, the Royal Mint being established as long ago as 886AD when coins were hammered. Today there is perhaps 30 billion coins in circulation, and many (numismatic) collectors coins and sets are issued frequently in gold, silver and other metals.
If you don't see a coin in the list below try the Sovereigns page on
eBay UK
---
List of items on:


eBay UK


eBay USA
---


On eBay UK:
---
2017 Gold Proof Sovereign Piedfort Boxed Coa Ltd Edition

£ 1,650.00

2017 Piedfort Gold Proof Sovereign - SPECIAL ISSUE for 200th Gold Anniversary

£ 1,689.00

2017 Piedfort Proof Full Gold Sovereign Only 3400 Issued

£ 1,695.00

BOXED 2017 ROYAL MINT PIEDFORT GOLD PROOF SOVEREIGN IN MINT CONDITION WITH CERT.

£ 1,755.00

2017 Piedfort Proof Full Gold Sovereign Only 3400 Issued

£ 1,899.00
---
List of items on:


eBay UK


eBay USA
---