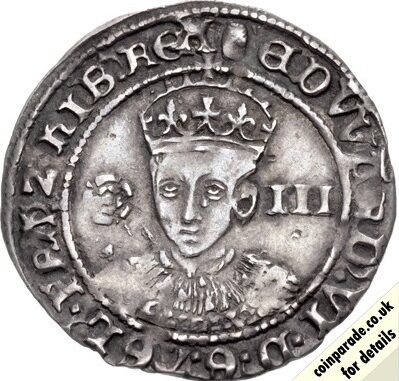 The 1551-1553 Threepence - Edward VI
Silver threepence of King Edward VI. Third period. Minted between 1551 and 1553 at the Tower (London) Mint. Diameter 21mm, weigh 1.52g. SCBC: 2485. North: 1940.
The Obverse shows the slightly facing bust of Edward VI. Mint mark is a 'tun' (a barrel). Legend is "?DVVARD · VI · D · G · AGL · FRA · Z · hIB · R?X". The 'III' to the right is a mark of value (three pence) to distinguish the coin from the very similar sixpence. Tudor rose to the left.

The Reverse is a cross fourchee over a coat of arms. Legend is "POSVI D?V : A DIVTOR ? · m?V".
This coin graded as Good VF.
Image credit:
CNG Coins
Remember 1551 ?
1551 in Roman Numerals is MDLI. Monarch is Edward VI, the Boy King. The Regent is John Dudley. Silver sixpence and silver crown first minted.
Edward VI (1547-1553)

Edward VI of England was born on 12 October 1537, the son of Henry VIII and Jane Seymour. He became King of England and Ireland in 1547 aged only 9 years old, having a Coronation on 20 February 1547. He was in the house of Tudor. Due to his young age, the realm was governed by a regency council led by his uncle Edward Seymour and then by John Dudley.
Edward died on 6 July 1553 (just 15 years old) after a serious illness and was buried in Westminster Abbey. Edward had decided that his first cousin once removed, the 16-year-old Lady Jane Grey, should become Queen. However, after his death his half-sisters Mary and Elizabeth desputed the succession and after only nine days Jane was removed from the throne (and subsequently executed) and Mary became Queen of England and Ireland.
General Description: Three Pence
The threepence, thruppence, or thruppenny bit is a British coin minted from 1547 up until decimalisation in 1970, although not every year. It was 3 'old' pence, a quarter of a shilling.
Originally silver, it became a 12-sided nickel-brass coin in 1937.
Which Mint: The Royal Mint
The Royal Mint is the designated place for the UK to mint coins. It dates back well over 1000 years and is a Government-owned company.
Formed in the reign of Alfred the Great about the year 886, during the period 1279-1812 it was generally referred to as
The Tower Mint
as it was housed at the Tower of London. The
Master of The Royal Mint
has included famous figures such as Sir Isaac Newton.
Since 2010 it has operated as Royal Mint Ltd, a company owned by HM Treasury, under an exclusive contract to supply all coinage for the UK although it also produces medals and coins for other countries. It is currently located at Llantrisant, Wales.
There is also an on-line shop at
The Royal Mint Shop

.
Country of Origin: United Kingdom
The United Kingdom (UK) is the Union of England, Scotland, Wales and Northern Ireland. It is often refered to as Great Britain (GBR). It has a long, rich history.
The orignal coinage was Pounds, Shillings and Pence but since decimalisation on 15 February 1971, it is £1 = 100p, that is One Pound = 100 pence. The coinage of the UK is also a long history, the Royal Mint being established as long ago as 886AD when coins were hammered. Today there is perhaps 30 billion coins in circulation, and many (numismatic) collectors coins and sets are issued frequently in gold, silver and other metals.
---
List of items on:


eBay UK


eBay USA
---


On eBay USA:
---
COINS EARRINGS George VI three pence + Italy Ercole Moretti millefiori beads

USD $ 34.89
---
List of items on:


eBay UK


eBay USA
---