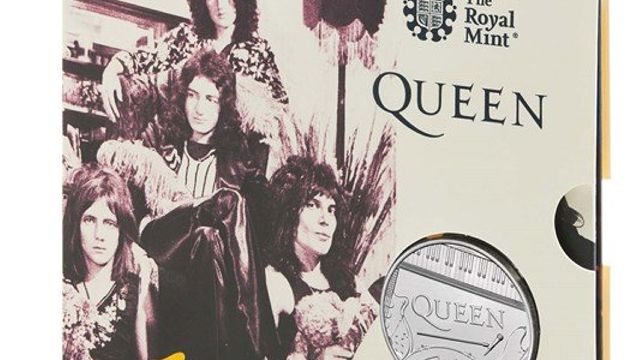 The Royal Mint have started a new collection of coins called "Music Legends" and the first artists to be honoured in this way is the British rock band Queen. The 2020 Queen coins include £5 in BU, £2 silver and £100 gold.
Queen was formed in London way back in 1970 and their line up of Freddie Mercury (lead vocals, piano), Brian May (guitar, vocals), John Deacon (bass guitar), and Roger Taylor (drums, vocals) have rightfully become music legends.

In 1975, "Bohemian Rhapsody" brought them international success and over the years Queen have sold literally hundreds of millions of records. In 2018 the story of Queen was made into a film (also called Bohemian Rhapsody) and it grossed over $900 million worldwide, making it the highest-grossing musical biographical film of all time (also winning an Oscar for Rami Malek for his portrayal of Freddie Mercury).
Queen is still massively popular today.
2020 Queen Coin Design
The Royal Mint have issued a number of coins, each with the same designs.

The Reverse, by Chris Facey, shows the instruments used by each member of the band: Brian May's Red Special guitar, John Deacon's Fender Precision bass, Roger Taylor's Ludwig™ bass drum and Freddie Mercury's Bechstein™ grand piano. The piano has keys pressed to show the opening notes of Bohemian Rhapsody. The design was approved by band members Roger Taylor and Brian May.
The Obverse is a portrait of Queen Elizabeth II by Jody Clark.
Queen £5 Variants
The £5 BU coin is released in four different folder packaging:
A standard £5 BU coin with a open-out folder with photographs of Queen. No issue limit.
A standard £5 BU coin with 'Hot Space' slip case + poster, limited to 25,000.
A standard £5 BU coin with 'A Kind of Magic' slip case + poster + poster, limited to 25,000.
A standard £5 BU coin with 'Live' slip case + poster, limited to 25,000.

Besides the BU coins, the other variants are:
One Ounce Silver Proof Coin, limited to 7,500. The edge lettering features the names of all four original band members: Mercury, Taylor, Deacon and May.
Half Ounce Silver Proof Coin, limit 17,500.
One Ounce Gold Proof Coin, limited to only 300.
Quarter-Ounce Gold Proof Coin, limit 1,250.
There was a high demand for these coins from day one, with many selling out.
Images by permission of the Royal Mint.
---
List of items on:
---


On eBay UK:
---
2020 Royal Mint Music Legend Queen The Band £5 Five Pound Coin Pack

£ 15.50

2020 Queen Music Legends Official BU £5 Pound Coin Sealed.

£ 14.00

2020 2021 Music Legends £5 Coin Five pound Queen Elton John David Bowie The Who

£ 16.95

2020 Royal Mint Music Legend Queen The Band £5 Five Pound Coin Pack

£ 15.00

2020 Royal Mint Music Legend Queen £5 Five Pound Coin Pack

£ 14.00

2020 £5 Five Pound BU Coin Music legends - David Bowie, Elton John, Queen

£ 18.50

UK Five Pound £5 Coin Brilliant Uncirculated 1990 to 2022 - Choose your Coin

£ 16.99

2020 Music Legends Queen £5 Five Pound Brilliant Uncirculated Coin Pack

£ 19.99
---
List of items on:
---