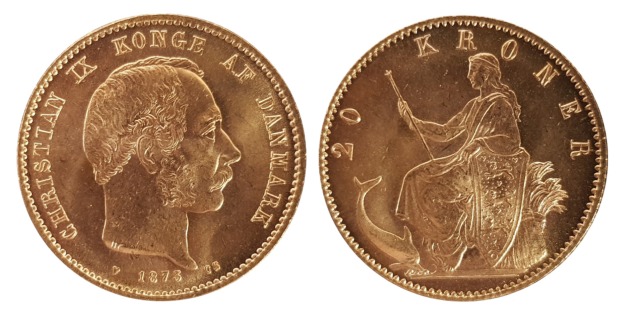 The Christian IX Gold 20 Kroner was minted between 1873 and 1900. Christian IX was the King of Denmark from 1863 to 1906. He was first Danish monarch of the House of Glücksburg.
Christian is one of the main reasons there is such a family relationship between European Royal Families. After failing to court his third cousin, Queen Victoria (of Britain), Christian married his second cousin, Princess Louise of Hesse-Kassel. They had six children and married into Royal families across Europe.
The Royalty directly related includes our own Queen Elizabeth II and there is also a link to Prince Philip, the Duke of Edinburgh; Queen Margrethe II of Denmark, King Philippe of Belgium, King Harald V of Norway, King Felipe VI of Spain, Grand Duke Henri of Luxembourg, Michael I of Romania, Constantine II of Greece, plus the queens consort Anne of Romania, Anne-Marie of Greece, and Queen Sofia of Spain. Christian's grandsons included George V of the United Kingdom, Nicholas II of Russia, Constantine I of Greece, Christian X of Denmark and Haakon VII of Norway.
It's no surprise that Christian IX was given the nickname of The Father-in-Law of Europe.
The 20 Kroner gold coin is 0.9 (90%) gold and has 8.06g of gold, actual coin weight is 8.96g. The diameter os 23mm. (The 10 Kroner has a fine weight of 4.03g). The other 10% is copper. Having such a high content of copper the coins often have a reddish tint, especially as they age.
The obverse shows the King:

The reverse is a seated female figure with a shield and porpoise:

Danish 20 Kroner Gold coins were minted between 1873 and 1931, together with the 10 Kroner gold coins. They featured three Danish Kings: Christian IX (1863-1906), Frederick VIII (1906-1912) and Christian X (1912-1947).
Denmark went through a period of over 400 years were the King's name alternated between Christian and Frederick.
Images from M J Hughes Coins who are interested in buying gold coins like the one described above.
---
List of items on:
---


On eBay UK:
---
Denmark 20 Kroner Gold Coin 1873 Christian IX Danish Gold Coin NGC MS65

£ 585.00

Gold Viking Danish Ribe Haithabu Ray-Face/Deer Penny type circa 9th.c. A.D.

£ 260.71

1908 Denmark Gold 10K NGC MS63 10 Kroner Danish Coin MS 63 Frederik

£ 333.17

1916 Denmark Gold 20K ANACS MS64 20 Kroner Danish Coin VBP AH Christian X

£ 749.65

1908 Denmark Gold 20K ANACS MS63 20 Kroner Danish Coin VBP MS 63 Frederik RARE

£ 749.65
---
List of items on:
---