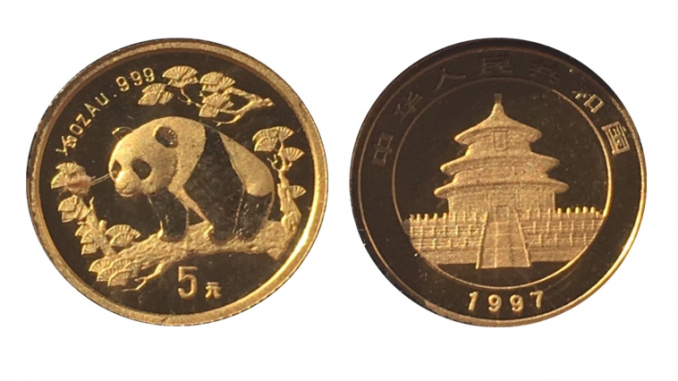 The Chinese Gold Panda is a series of 24 carat gold bullion coins that have been minted since 1982 by the People's Republic of China. Each year depicts a (usually different) image of a Panda. The coin is available in a number of sizes and is 99.9% gold.

China is the World's biggest producer of gold coins. The Gold Pandas started in 1982 and consisted of 1 troy ounce, 1/2 oz, 1/4 oz, 1/10 oz with 1/20th oz being added in 1983. The denomination is 500 yuan, 200, 100, 50 and 20. In some years 5 oz and 12 oz coins were issued.
From 2016 the coin became metric and the equivalent to the 1 oz coin became a 30g coin (0.9645 troy ounce). The series became 30g, 15g, 8g, 3g, 1g.
Pandas are also minted in Silver (with the same design as the gold series) and in Palladium and Platinum.
The coins were minted at Shanghai Mint (1982-2004), Shenyang Mint (1985-1999, 2003-2004) and Shenzhen Guobao Mint (1999-2002, 2005 on) but do not usually carry mintmarks, although minor variations (like the size of the date and temple style) do allow experienced handlers to determine the originating mint. The coins are authorised by the People's Bank of China.
The obverse shows the The Hall of Prayer for Good Harvests at The Temple of Heaven (Tiantan) in Beijing. There has been variations of the layout but the Temple of Heaven is always used.
The legend is "Zhonghua Renmin Gongheguo" (in Chinese lettering) which means "People's Republic of China".  At the bottom of the temple is the date and may also include a commemorative theme mark.

The reverse is always that of the eponymous giant Panda, a national symbol of China. The design is usually different but the same image was used in 2001 and 2002. Some designs have frosting. The reverse states the denomination and gold purity.
Denomination and Specifications
Gold Pandas are legal tender in China. Between 1982 and 2000 the 1 ounce coin was denominated as 100 yuan (other coins pro-rata); after that the 1 ounce became 500 yuan.
In 2016 the coin became metric and the 500 yuan coin became 30g (0.9645 troy ounce). Obviously this affects the bullion price.
Old Coins

New Metric Coins

Face value
Gold weight
Total
Diameter
Thickness
Total weight
gold weight
Diameter
Thickness
500 yuan
1 troy oz
31.103g
32.05 mm
2.70 mm
30g
0.9645 troy oz
32 mm
2.70 mm
200 yuan
1/2 troy oz
15.5515g
27.00 mm
1.85 mm
15g
0.4823 troy oz
27 mm
1.85 mm
100 yuan
1/4 troy oz
7.7758g
21.95 mm
1.53 mm
8g
0.2572 troy oz
22 mm
1.53 mm
50 yuan
1/10 troy oz
3.1103g
17.95 mm
1.05 mm
3g
0.0965 troy oz
18 mm
1.05 mm
20 yuan
1/20 troy oz
1.5552g
13.92 mm
0.83 mm
1g
0.0322 troy oz
10 mm
0.83 mm
Mintages vary, but are often around 600,000 coins per year, and over 1 million in some years.
Images from M J Hughes Coins who are interested in buying gold coins like the one described above.