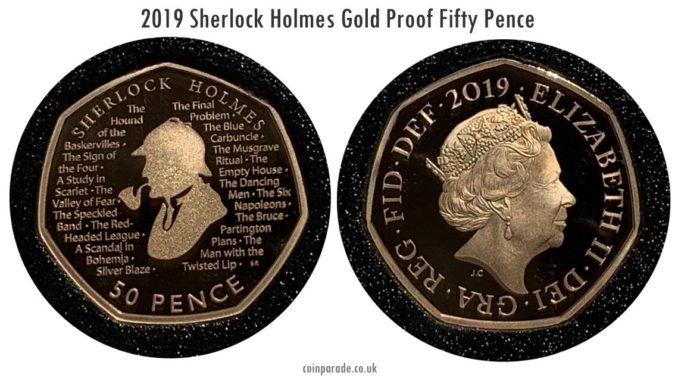 In 2019 the Royal Mint decided to commemorate Sherlock Holmes with a Gold 50p piece. Sherlock Holmes is probably the most famous fictional detective of all time and was created by Sir Arthur Conan Doyle. Here's the story.
The Birth of Sherlock Holmes
Sir Arthur Conan Doyle (1859-1930) was born in Edinburgh, Scotland. He was a medical man and trained as a Physician, but his passion was writing. Published in 1887, A Study in Scarlet introduced private detective Sherlock Holmes to the World. Four novels and 56 short stories followed. There has been over 200 films and according to the Guinness Book of Records is the "most portrayed movie character" with more than 70 actors playing the part.

In his books Holmes lives at 221B Baker Street in London and is generally accompanied by his good friend, Dr Watson. His arch enemy is the criminal mastermind Professor Moriarty. Sherlock Holmes is a sort of Victorian superhero, with amazing powers of observation, deduction and logical reasoning.
Thanks to Arthur Conan Doyle's medical training, Holmes was also ahead of his time with forensic science. For example, Holmes used fingerprints many years before Scotland Yard.
Although Sherlock Holmes is greatly associated with the phrase "Elementary, my dear Watson", he never actually used that exact phrase in any of the books.
Doyle wrote many other books, both fiction and non-fiction. He was a sportsman, playing football (in goal) for Portsmouth (when it was an amateur club) and as a cricketer he played ten first-class matches for the MCC (his highest score was 43 but his only wicket was W.G. Grace!). He also liked boxing and golf.
Doyle stood for parliament twice and despite good showing was never elected. He was married twice and has five children.
2019 Sherlock Holmes Gold Fifty Pence Coin
The reverse was designed by Stephen Raw and shows a silhouette of Sherlock Holmes with his famous pipe and deerstalker hat. In small print is a list of the famous Holmes stories, the deliberately small font so that you can use another tool of the iconic sleuth, a magnifying glass, to read the clues.
The obverse is the portrait of Queen Elizabeth II by Jody Clark. There is no edge inscription.

The royal Mint imposed a maximum mintage of 600, but only 400 are available as special edition.
General Specifications
Metal: 22 Carat Gold
Weight: 15.50 g
Diameter: 27.30mm
Shape: 7-sided
Denomination: 50p
The 50p coin is available as gold proof, silver proof, silver proof Piedfort and into general circulation in cupro-nickel.
My thanks to M J Hughes Coins for the use of the photographs.

---
List of items on:
---


On eBay UK:
---
2019 Celebration of Sherlock Holmes Gold Proof 50p Coin from the Royal Mint.

£ 925.00

2019 ROYAL MINT SHERLOCK HOLMES GOLD PROOF 50p COA & PRESENTATION BOX SUPERB

£ 920.00

2019 ROYAL MINT SHERLOCK HOLMES GOLD PROOF 50p COA & PRESENTATION BOX SUPERB

£ 920.00

2019 UK Sherlock Holmes CERTIFIED BU 50p (NOT Silver, NOT Gold)

£ 12.99
---
List of items on:
---