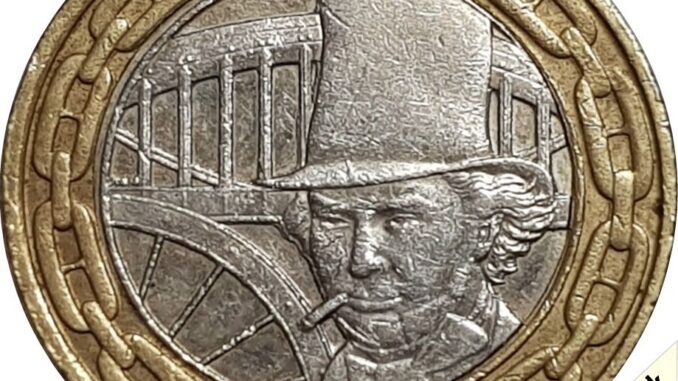 The 2006 Two Pound Coin - Isambard Kingdom Brunel
In 2006 the Royal Mint released two coins celebrating the 200th year of the birth of one of Britain's greatest engineers - Isambard Kingdom Brunel (1806-1859). Brunel was a key figure in the Industrial Revolution and he is remembered for many things, including railways, steamships, bridges and buildings.
In 1843 while performing a conjuring trick for his children, Brunel accidentally swallowed a gold half-sovereign which became lodged in his windpipe. It proved difficult to remove and he needed some time to recuperate after it was eventually shaken out by his Father strapping him upside-down to a board.
This £2 coin shows a portrait of Isambard Kingdom Brunel. The reverse of the coin was designed by Rod Kelly.
The coin (SCBC: K20) is also available as a Proof, Silver Proof, Silver Proof Piedfort and Gold Proof.
The obverse is the Ian Rank-Broadley portrait of Queen Elizabeth II.
Edge inscription reads "1806-1859 ISAMBARD KINGDOM BRUNEL ENGINEER".
Image credit:
M J Hughes Coins
.


Mintage: 7,928,250 (may include coins in sets)
Minted at The Royal Mint.
Remember 2006 ?
Elizabeth II was in her 54th year as Queen. George W Bush is U.S. President. Pluto is redefined as a dwarf planet.
Elizabeth II (1952-Present)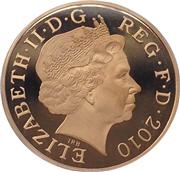 Queen Elizabeth II is the current and longest reigning monarch ever. Born on 21 April 1926 to King George VI and Elizabeth Bowes-Lyon, she became Queen in 1952 and her Coronation was on 2 June 1953.
Queen Elizabeth II has issued many coins and was monarch during decimalisation.
General Description: Two Pound Coins
The current Two Pound (£2) coin that is found in circulation is a bimetallic coin introduced on 15th June 1998 (although the first are dated 1997). There are almost 500 million £2 coins of various designs in current circulation.
There has been other two pound coins. From 1823 until 1996 they made occasional appearances and the double-sovereign has a two pound value. Commemorative two pound coins were issued from 1986 to 1996. This article is primarily concerned with the circulating coins of 1997 onwards.
specifications:
Weight: 12 g
Diameter: 28.4 mm
Thickness: 2.5 mm
Edge: Milled, with incuse lettering
Design style: Circular, bi-metallic
Composition Outer ring: Nickel-brass (76% Cu, 20% Zn and 4% Ni)
Composition Centre: Cupro-nickel (75% Cu , 25% Ni)
The two pound coin has also been minted in gold.
Which Mint: The Royal Mint
The Royal Mint is the designated place for the UK to mint coins. It dates back well over 1000 years and is a Government-owned company.
Formed in the reign of Alfred the Great about the year 886, during the period 1279-1812 it was generally referred to as
The Tower Mint
as it was housed at the Tower of London. The
Master of The Royal Mint
has included famous figures such as Sir Isaac Newton.
Since 2010 it has operated as Royal Mint Ltd, a company owned by HM Treasury, under an exclusive contract to supply all coinage for the UK although it also produces medals and coins for other countries. It is currently located at Llantrisant, Wales.
There is also an on-line shop at
The Royal Mint Shop

.
Country of Origin: United Kingdom
The United Kingdom (UK) is the Union of England, Scotland, Wales and Northern Ireland. It is often refered to as Great Britain (GBR). It has a long, rich history.
The orignal coinage was Pounds, Shillings and Pence but since decimalisation on 15 February 1971, it is £1 = 100p, that is One Pound = 100 pence. The coinage of the UK is also a long history, the Royal Mint being established as long ago as 886AD when coins were hammered. Today there is perhaps 30 billion coins in circulation, and many (numismatic) collectors coins and sets are issued frequently in gold, silver and other metals.
If you don't see a coin in the list below try the Two Pound Coins page on
eBay UK
---
List of items on:


eBay UK


eBay USA
---


On eBay USA:
---
2006 £2 COIN UK TWO POUNDS MINT ERROR ISAMBARD BRUNEL PADDINGTON RAILWAY STATION

USD $ 106.87

Coin 2006 £2 ISAMBARD KINGDOM BRUNEL ENGINEER - Coin Hunt Coin two pound coin

USD $ 4.39

2006 £2 Isambard Kingdom Brunel Engineer Two Pound Coin RARE - Minting Error

USD $ 70.00
---
List of items on:


eBay UK


eBay USA
---