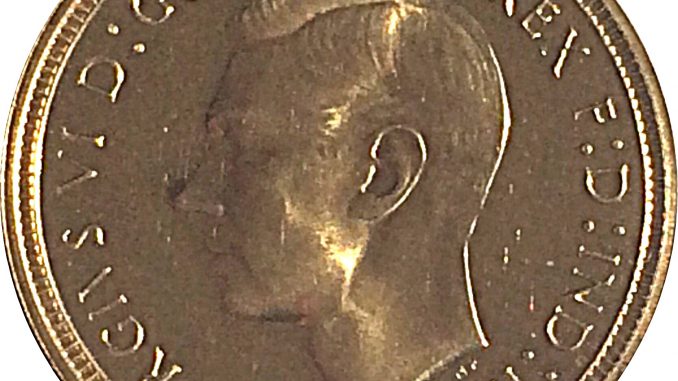 The 1937 Gold Sovereign of King George VI is one of the most sought after sovereigns. It is only available in proof, only 5001 were minted and therefore it commands quite a high price.
One of the reasons it is much sought after is that it is the only gold sovereign that bears the head of King George VI. The Second World War seen to that. But it was not the only year that sovereigns were made at the London Mint during the George's reign (1936-1952).

Although no other gold sovereigns bear the name of George VI, sovereigns were minted in 1949 (138,000), 1950 (318,000) and 1951 (430,000) but they were restrikes using the 1925 George V dies and are thus dated 1925.
Restrikes are often thought of as some sort of effort to create forged coins, but many mints have legitimately used this technique of reusing the same dies. For example, all Maria Theresa Thalers made after 1780 carry the date 1780.

Our case was no doubt brought about by necessity; Britain needed to mint a relatively small quantity of gold sovereigns at short notice, there was no time for the legal Proclamation and the making of new dies. Besides that, Britain was still strapped for cash from the war effort. The logical choice was to use the dies of the last gold sovereign made in London: the 1925 George V gold sovereign.
And so they did. They duplicated the George V coin and left the date unaltered as 1925. Some say you can tell the difference as the restrikes have a more pronounced rim.
As most of the pre-war sovereigns were melted into gold bars for the war effort, if you have a 1925 sovereign it is more likely to be a restrike even though the mintages were much lower.
---
List of items on:
---


On eBay UK:
---
1925 George V Gold Full Sovereign, London Mint

£ 465.00

1925 Gold Sovereign - King George V - SA - South Africa - about uncirculated

£ 450.00

1925-P King George V Gold Sovereign (Perth)

£ 699.00

1925M GEORGE V GOLD FULL SOVEREIGN IN EXTREMELY FINE OR BETTER CONDITION

£ 505.00

1925 SA ~ South Africa ~ George V ~ Gold Sovereign Coin ~ NGC MS 63

£ 499.99

1925-M King George V Gold Sovereign (Melbourne)

£ 549.00

1925 King George V Full Gold Sovereign, South Africa Mint, High Grade In Case.

£ 528.00

:1925 GREAT BRITAIN GEORGE-V GOLD SOVEREIGN GEM+ NGC MS 65+ LOW POP RARITY R4

£ 935.72
---
List of items on:
---