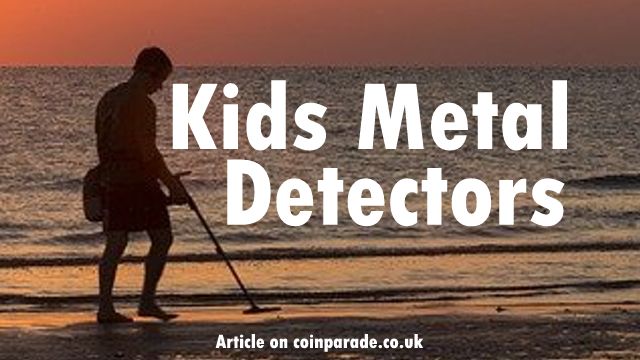 You know the problem when your children want to come with you when you go metal detecting. You know what's going to happen next: within an hour you hear the words "I'm bored" and "Can we go home now?". Here's a solution: buy the kids their own metal detector and let them find some treasures of their own.
Prices on ebay start at about £20 and you get a working metal detector. Maybe not as good as a top-of-the-range adult model but it works and more important it's shorter, lighter and easier to work so that even young kids can have fun. They may even find something valuable!
You can buy a kids metal detector on its own or as a kit complete with shovel and headphones. Some have all the wires hidden away for safety and most have a waterproof Search Coil so they can be pretty robust. Some of the more expensive models look very much like an adult metal detector and can be used as a beginner or introductory detector.
It's a great idea for a Christmas or Birthday gift.
WARNING: It can be REALLY embarrassing if the kids find better stuff then you do. I recommend you carry a few Roman coins in your back pocket and if all goes bad you can pretend you just found them.
---
List of items on:
---


On eBay UK:
---
Waterproof Metal Detector for Kids Children Coin Treasure Gold Hunter Seeker New

£ 31.90

Compact Metal Detector Buried Treasure Seeker Fun Activity Adults Children Kids

£ 23.50

KKmoon Children Kids Waterproof Metal Detector Gold Finder Treasure Hunter Gifts

£ 23.49

Children Underground Metal Detector Metal Finder Gold Detectors Kids New

£ 21.75

KKmoon Children Kids Waterproof Metal Detector Gold Finder Treasure Hunter Xmas

£ 24.49

KKmoon Metal Detector Treasure Hunter Gold Digger for Kids Children Gift C5P9

£ 24.99

Mylek Metal Detector Waterproof Search Coil Finds Treasure Beginners Childrens

£ 49.95

KKmoon Children Waterproof Metal Detector Gold Finder Treasure Xmas Gifts I1Z9

£ 25.48

Children Kids Waterproof Metal Detector Gold Finder Treasure Hunter Gifts E8T4

£ 25.12

KKmoon MD4030 Children Metal Detector Detector Treasure Hunter Q6C7

£ 36.73

UNDERGROUND METAL DETECTOR GOLD DETECTORS WITH SHOVEL FOR CHILDREN Z5B8

£ 21.98

Sand Scoop Metal Detector Children Kids Gold Finder Treasure Hunter Beach Shovel

£ 21.99
---
List of items on:
---