The 2022 UK Premium Proof Coin Set
The collection of the eight coins of 2022 and five special commorative, plus an exclusive 2022 Premium Medal, all in proof finish and housed in a wooden-style case. Very popular with collectors.
The 2022 set is limited to only 2,500 sets, which is half of the 2021 mintage.
The 2022 UK Premium Proof Coin Set consists of:
2022 Platinum Jubilee £5 by John Bergdahl
2022 Alexander Graham Bell £2 by Henry Gray
2022 Dame Vera Lynn £2 by the Royal Mint Coin Design Team
2022 Platinum Jubilee 50p by Osborne Ross
2022 Commonwealth Games 50p by Natasha Preece
2022 Premium Proof Medal by the Royal Mint Coin Design Team
2022 £2 Base Proof by Antony Dufort
2022 £1 Base Proof by David Pearce
2022 50p Base Proof by Matthew Dent
2022 20p Base Proof by Matthew Dent
2022 10p Base Proof by Matthew Dent
2022 5p Base Proof by Matthew Dent
2022 2p Base Proof by Matthew Dent
2022 1p Base Proof by Matthew Dent

Obverse Designer for the set is Jody Clark.
Image credit: The Royal Mint


Mintage: 2,500 (may include coins in sets)
Minted at The Royal Mint.
Remember 2022 ?
In UK: The Monarch is Queen Elizabeth II. Prime Minster is Boris Johnson. Russia invades Ukraine, causing global tensions. Coronavirus is still a concern.
In USA: US President is Joe Biden (D-Delaware) and vice-president is Kamala Harris.
Elizabeth II (1952-Present)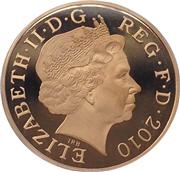 Queen Elizabeth II is the current and longest reigning monarch ever. Born on 21 April 1926 to King George VI and Elizabeth Bowes-Lyon, she became Queen in 1952 and her Coronation was on 2 June 1953.
Queen Elizabeth II has issued many coins and was monarch during decimalisation.
General Description: Royal Mint Proof Sets
Royal Mint Proof Sets are available in several versions. They are generally year sets of UK coins, although the coins included may vary between versions.
The packaging is usually excellent and according to the version the packaging will be card, leather/plastic or even wooden boxes at the top end. The more expensive sets tend to have more coins, including commereative coins like crowns. As a general guide:
Standard Proof Sets are issued in blue folders or card display boxes.
Deluxe Proof Set are issued in red leather cases.
Executive Proof Sets are issued in wooden boxes.
Some earlier sets were issued in card folders or plastic blister packs.
Royal Mint Proof Sets are very popular with collectors and some can demand quite high prices.
Which Mint: The Royal Mint
The Royal Mint is the designated place for the UK to mint coins. It dates back well over 1000 years and is a Government-owned company.
Formed in the reign of Alfred the Great about the year 886, during the period 1279-1812 it was generally referred to as
The Tower Mint
as it was housed at the Tower of London. The
Master of The Royal Mint
has included famous figures such as Sir Isaac Newton.
Since 2010 it has operated as Royal Mint Ltd, a company owned by HM Treasury, under an exclusive contract to supply all coinage for the UK although it also produces medals and coins for other countries. It is currently located at Llantrisant, Wales.
There is also an on-line shop at
The Royal Mint Shop

.
Country of Origin: United Kingdom
The United Kingdom (UK) is the Union of England, Scotland, Wales and Northern Ireland. It is often refered to as Great Britain (GBR). It has a long, rich history.
The orignal coinage was Pounds, Shillings and Pence but since decimalisation on 15 February 1971, it is £1 = 100p, that is One Pound = 100 pence. The coinage of the UK is also a long history, the Royal Mint being established as long ago as 886AD when coins were hammered. Today there is perhaps 30 billion coins in circulation, and many (numismatic) collectors coins and sets are issued frequently in gold, silver and other metals.
If you don't see a coin in the list below try the Royal Mint Proof Sets page on
eBay UK
---
List of items on:


eBay UK


eBay USA
---


On eBay UK:
---
PF70 Ultra Cameo ( FR Label) Britannia 2022 UK Premium 6-Coin Gold Proof Set

£ 5,250.00
---
List of items on:


eBay UK


eBay USA
---