The 2022 Silver Britannia - 1oz Proof
The £2 silver (999 fine silver) Britannia coin. Often bought as a bullion coin, this Proof version has a limited edition of only 3,500. The coin is boxed with a Certificate of Authenticity (COA). Diameter 38.61mm and weights one troy ounce (31.21g).
The Britannia has a wide family of coins, ranging from small to large (although some may only be available in sets), and there are also gold versions.
The Reverse, by Dan Thorne, shows Britannia facing holding a trident and a shield with a lion on it.
The edge is milled.

The Obverse shows a portrait of Queen Elizabeth II by Jody Clark.
These coins are available (subject to stock) from the
Royal Mint Shop
(Product code: BR22SO).
Image credit:
The Royal Mint
Click to Check these on eBay UK
Mintage:
3,500
(may include coins in sets)
Minted at
The Royal Mint
.
Remember 2022 ?
In UK: The Monarch is Queen Elizabeth II. Prime Minster is Boris Johnson. Russia invades Ukraine, causing global tensions. Coronavirus is still a concern.
In USA: US President is Joe Biden (D-Delaware) and vice-president is Kamala Harris.
Elizabeth II (1952-Present)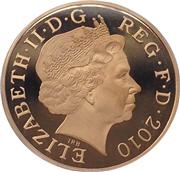 Queen Elizabeth II is the current and longest reigning monarch ever. Born on 21 April 1926 to King George VI and Elizabeth Bowes-Lyon, she became Queen in 1952 and her Coronation was on 2 June 1953.
Queen Elizabeth II has issued many coins and was monarch during decimalisation.
General Description: Silver Britannias
The Silver Britannia is a silver coin minted in the UK by the Royal Mint. It has a denomination of £2 and generally available both in proof and bullion versions. While the bullion version carries the same reverse over the years, the proof version feature a different design each year, making them very collectable.

This article covers the Silver Britannia, but the coin is also minted in gold and platinum; there is a large family of associated coins. Besides the one-ounce silver coin, the silver family includes Half ounce, One quarter ounce, One tenth ounce, One twentieth ounce and a massive Five ounce coin.
Specifications
The size and silver content of this coin has changed since the coin's release in 1997.
Originally it was 958 (95.8%) silver (which is known as 'Britannia Silver', the rest is usually copper).
Since 2013 the silver coins have followed the modern trend of using pure silver and are now produced with a millesimal fineness of .999 (99.9% silver).
One ounce (1997-2012): diameter 40 mm, (32.454 g).
One ounce (2013-) : diameter 38.61 mm, (31.104 g).
Face value: £2 (GBP)
Most years are also available as proof, although not every year.
Design
Know by this name as an image of Britannia is always on the reverse, the coin has been minted in silver since 1997. The image of the Proof Britannia is changed every year, and odd years see Britannia standing and even years see her sitting.

The image may be different on the proof and Unc versions of the same year; this is especially true after 2013. There are variations to the 1oz coin, we see 5oz, 1/2oz, 1/4oz and smaller; there are gold and platinum variants too. Generally the same year shares the same Britannia design.
Britannia, together with a combination of trident, Union Jack shield and lion are all symbols of Great Britain, devised many centuries ago to signify that Britain ruled the waves (as it did indeed in those days with the most powerful navy in the world). Britannia has been used on several other British coins.
The Obverse is always of Queen Elizabeth II.
Which Mint: The Royal Mint
The Royal Mint is the designated place for the UK to mint coins. It dates back well over 1000 years and is a Government-owned company.
Formed in the reign of Alfred the Great about the year 886, during the period 1279-1812 it was generally referred to as
The Tower Mint
as it was housed at the Tower of London. The
Master of The Royal Mint
has included famous figures such as Sir Isaac Newton.
Since 2010 it has operated as Royal Mint Ltd, a company owned by HM Treasury, under an exclusive contract to supply all coinage for the UK although it also produces medals and coins for other countries. It is currently located at Llantrisant, Wales.
There is also an on-line shop at
The Royal Mint Shop

.
Country of Origin: United Kingdom
The United Kingdom (UK) is the Union of England, Scotland, Wales and Northern Ireland. It is often refered to as Great Britain (GBR). It has a long, rich history.
The orignal coinage was Pounds, Shillings and Pence but since decimalisation on 15 February 1971, it is £1 = 100p, that is One Pound = 100 pence. The coinage of the UK is also a long history, the Royal Mint being established as long ago as 886AD when coins were hammered. Today there is perhaps 30 billion coins in circulation, and many (numismatic) collectors coins and sets are issued frequently in gold, silver and other metals.
If you don't see a coin in the list below try the Silver Britannias page on
eBay UK
---
List of items on:


eBay UK


eBay USA
---


On eBay UK:
---
2022 Britannia Silver Proof £2 Two Pound NGC PF70 1oz

£ 288.00

2022 Britannia Silver Proof £1 One Pound NGC PF69 1/2oz

£ 84.00

2022 Britannia Silver Proof 5p NGC PF70 1/40th oz

£ 37.00

2022 Great Britain Britannia 1 oz Silver Proof Coin NGC PF70 FIRST RELEASE OGP

£ 218.36

2022 Royal Mint Silver Proof Two Ounce Britannia 2oz - BRAND NEW!

£ 197.00

2022 Royal Mint Silver Proof 2oz Britannia - NEW 

£ 192.00

2022 Britannia Silver Proof 50p NGC PF69 1/4oz

£ 56.00

The Britannia 2022 UK 1oz Silver Proof Coin £2 Coin Two Pounds *IN STOCK* 999 Fi

£ 125.00
---
List of items on:


eBay UK


eBay USA
---