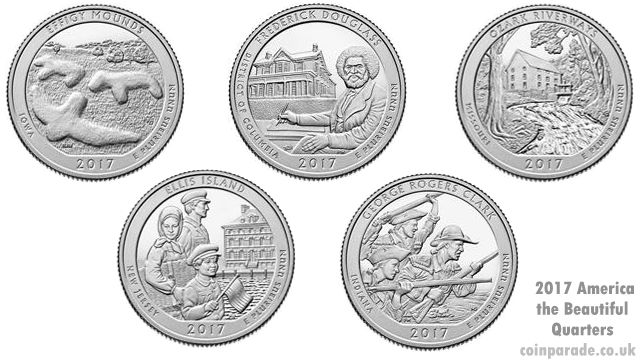 The 2017 release of the America the Beautiful Quarters® Silver Proof Set is the 8th in the series. The US Mint launched the series in 2010 to commemorate the most cherished National Parks and other National sites. Each year 5 quarters of different designs are minted and released as both Proof and Uncirculated. The series consists of 56 coins and runs from 2010 until 2021 inclusive.
Each obverse shows John Flanagan's 1932 portrait of George Washington. Each coin is 90% silver and weighs 6.25g with a diameter of 24.3mm (0.955 inches). The edge is reeded.
The 2017 set feature the following National sites:

Effigy Mounds National Monument in Iowa

Shows an aerial view of mounds in the Marching Bear Group.


Frederick Douglass National Historic Site in District of Columbia.

Shows Frederick Douglass seated at a writing desk with his home in Washington, D.C. in the background.


Ozark National Scenic Riverways in Missouri

Shows Alley Mill, a steel roller mill built in 1894. This merchant mill was used to convert wheat into flour. Much of the original milling equipment is still in place, and visitors to the park can tour the mill.


Ellis Island (Statue of Liberty National Monument) in New Jersey

Shows an immigrant family approaching Ellis Island with a mixture of hope and uncertainty. The hospital building can be seen in the background.


George Rogers Clark National Historical Park in Indiana
Shows George Rogers Clark leading his men through the flooded plains approaching Fort Sackville.
The set was originally issued in a clear plastic presentation box.
America the Beautiful Quarters® Program is a registered trademark of the USA Mint. We also thank the USA Mint for use of the coin images.
---
---
List of items on:


eBay UK


eBay USA
---


On eBay UK:
---
2017 P & D America the Beautiful Quarters Uncirculated Coin Set US Mint Packaged

£ 69.92

2017 AMERICA THE BEAUTIFUL 10 COIN UNCIRCULATED SET IN OGP

£ 9.15

2017 America The Beautiful COLORIZED Quarters U.S. Parks 5-Coin Set w/Capsules

£ 16.94

2017 P D & PROOF S US MINT AMERICA THE BEAUTIFUL ELLIS ISLAND 3 COIN SET SEALED

£ 16.62

2017 America The Beautiful HOLOGRAM Quarters U.S. Parks 5-Coin Set w/Capsules

£ 16.94

2017 America The Beautiful 24K GOLD PLATED Quarters Parks 5-Coin Set w/Capsules

£ 16.94

2017 Hologram National Parks America the Beautiful Coins *Set of all 5 Quarters*

£ 16.94

2017 24K Gold National Parks America the Beautiful Coins *Set of all 5 Quarters*

£ 16.94
---
List of items on:


eBay UK


eBay USA
---