2016 Silver Proof 50 Pence - Squirrel Nutkin Colourised
The first offering by the Royal Mint of Beatrix Potter coins were released in 2016 and featured Peter Rabbit, Jemima Puddle-Duck, Mrs. Tiggy-Winkle and this coin with Squirrel Nutkin.
Housed in a Perspex block, this colourised silver proof version sold out very quickly. After 12 months the price has doubled.
Reverse Designed by Emma Noble. The Obverse is a portrait of the Queen designed by Jody Clark.
Image credit:
M J Hughes Coins


Mintage: 15,000 (may include coins in sets)
Minted at The Royal Mint.
Remember 2016 ?
Donald Trump Elected as US President. BREXIT - Britain votes to leave EU after Referendum. Queen Elizabeth II marks her 90th birthday. Leicester City wins the 2016 Premier League, defying all odds. Sadiq Khan is sworn in as mayor of London. Archaeologists identify a Roman object found during construction of Bloomberg's new offices in the City of London as the oldest known hand-written document in the United Kingdom, dating back to AD 54. British astronaut Tim Peake returns to Earth after his six-month stay on the International Space Station. David Cameron resigns as Leader of the Conservative Party and is succeeded by his former Home Secretary Theresa May.
Elizabeth II (1952-Present)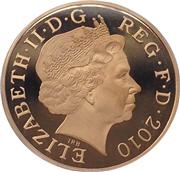 Queen Elizabeth II is the current and longest reigning monarch ever. Born on 21 April 1926 to King George VI and Elizabeth Bowes-Lyon, she became Queen in 1952 and her Coronation was on 2 June 1953.
Queen Elizabeth II has issued many coins and was monarch during decimalisation.
General Description: 50 Pence Coins
The British Fifty Pence (50p) coin was introduced in October 1969 as part of the decimalisation of the British currency. It replaced the 10 shilling note, both being equivalent to half of one pound (£0.50). It is colloquially called the '50 pee'. The coin has 7 sides (heptagonal) but has rounded corners on each apex so that the coin will roll and work in vending machines.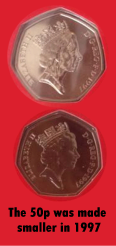 Originally, the coin has a diameter of 30mm and weighed 13.5g, but in 1997 this was replaced with a smaller version of diameter 27.3mm and weight of 8g. The thickness was kept at 1.78mm. The coin is made of Cupro-Nickel (75% copper, 25% nickel). The larger version was demonitised (i.e. ceased to be legal tender) in 1998.

All coins have an obverse featuring the portrait Queen Elizabeth II. There are three versions:
1969-1984 - Designer: Arnold Machin
1985-1997 - Designer: Raphael Maklouf
1998-2015 - Designer: Ian Rank-Broadley FRBS
2015 to date - Designer: Jody Clark
The reverse has shown a large variety of important UK milestones or people, and in doing so has made the coin very popular with collectors. Besides the coins intended for circulation, the Royal Mint have issued silver (normal and Piedfort), platinum and gold proof versions of the 50 pence piece.
There are also 29 different variants which were minted in 2011 in celebration of the
2012 Summer Olympics.
Which Mint: The Royal Mint
The Royal Mint is the designated place for the UK to mint coins. It dates back well over 1000 years and is a Government-owned company.
Formed in the reign of Alfred the Great about the year 886, during the period 1279-1812 it was generally referred to as
The Tower Mint
as it was housed at the Tower of London. The
Master of The Royal Mint
has included famous figures such as Sir Isaac Newton.
Since 2010 it has operated as Royal Mint Ltd, a company owned by HM Treasury, under an exclusive contract to supply all coinage for the UK although it also produces medals and coins for other countries. It is currently located at Llantrisant, Wales.
There is also an on-line shop at
The Royal Mint Shop

.
Country of Origin: United Kingdom
The United Kingdom (UK) is the Union of England, Scotland, Wales and Northern Ireland. It is often refered to as Great Britain (GBR). It has a long, rich history.
The orignal coinage was Pounds, Shillings and Pence but since decimalisation on 15 February 1971, it is £1 = 100p, that is One Pound = 100 pence. The coinage of the UK is also a long history, the Royal Mint being established as long ago as 886AD when coins were hammered. Today there is perhaps 30 billion coins in circulation, and many (numismatic) collectors coins and sets are issued frequently in gold, silver and other metals.
If you don't see a coin in the list below try the 50 Pence Coins page on
eBay UK
---
List of items on:


eBay UK


eBay USA
---


On eBay UK:
---
Check prices for these coins in the eBay Coins Category
---
List of items on:


eBay UK


eBay USA
---