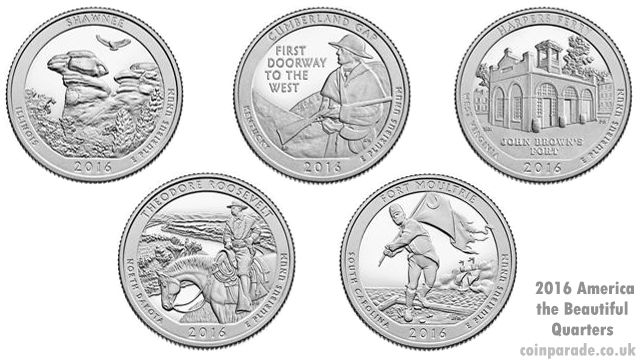 The 2016 release of the America the Beautiful Quarters® Silver Proof Set is the 7th in the series. The US Mint launched the series in 2010 to commemorate the most cherished National Parks and other National sites. Each year 5 quarters of different designs are minted and released as both Proof and Uncirculated. The series consists of 56 coins and runs from 2010 until 2021 inclusive.
Each obverse shows John Flanagan's 1932 portrait of George Washington. Each coin is 90% silver and weighs 6.25g with a diameter of 24.3mm (0.955 inches). The edge is reeded.
The 2016 set feature the following National sites:


Shawnee National Forest in Illinois

Shows a view of Camel Rock with vegetation in the foreground and a red-tailed hawk flying in the sky overhead.


Cumberland Gap National Historic Park in Kentucky

Shows a frontiersman looking across the mountains to the West. Many early pioneers used Cumberland Gap on their journey into the western frontiers of Kentucky and Tennessee.


Harpers Ferry National Historical Park in West Virginia

Shows the Fort of John Brown, the site of his last stand during his raid on the Harpers Ferry Armory.


Theodore Roosevelt National Park in North Dakota

Shows the young Theodore Roosevelt on horseback surveying the terrain near the Little Missouri River.


Fort Moultrie at Fort Sumter National Monument in South Carolina

Shows Sergeant William Jasper returning the regimental flag to the ramparts while under attack from a British ship.
The set was originally issued in a clear plastic presentation box.
America the Beautiful Quarters® Program is a registered trademark of the USA Mint. We also thank the USA Mint for use of the coin images.
---
---
List of items on:


eBay UK


eBay USA
---


On eBay UK:
---
2016 America The Beautiful COLORIZED Quarters U.S. Parks 5-Coin Set w/Capsules

£ 16.55

2016 America The Beautiful HOLOGRAM Quarters U.S. Parks 5-Coin Set w/Capsules

£ 16.55

2016 America The Beautiful 24K GOLD PLATED Quarters Parks 5-Coin Set w/Capsules

£ 16.55

US MINT 3 COIN SET 2016 AMERICA THE BEAUTIFUL QUARTERS CUMBERLAND GAP KENTUCKY

£ 52.07

2016 America the Beautiful 5x Unc Quarter Dollar Coins Set S Mint

£ 10.99

2016 America the Beautiful 10x Unc Quarter Dollar Coins Set P/D

£ 9.99

2017 Hologram National Parks America the Beautiful Coins *Set of all 5 Quarters*

£ 16.55

2016 America the Beautiful Harpers Ferry Mint Issue 3 Coin Set

£ 16.23
---
List of items on:


eBay UK


eBay USA
---
---