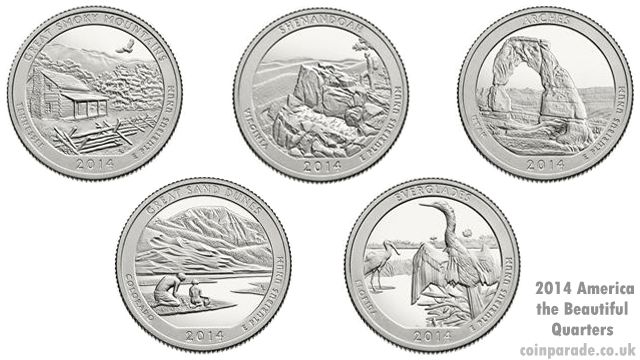 The 2014 release of the America the Beautiful Quarters® Silver Proof Set is the 5th in the series. The US Mint launched the series in 2010 to commemorate the most cherished National Parks and other National sites. Each year 5 quarters of different designs are minted and released as both Proof and Uncirculated. The series consists of 56 coins and runs from 2010 until 2021 inclusive.
Each obverse shows John Flanagan's 1932 portrait of George Washington. Each coin is 90% silver and weighs 6.25g with a diameter of 24.3mm (0.955 inches). The edge is reeded.
The 2014 set feature the following National sites:

Great Smoky Mountains National Park

in Tennesse

Shows an old log cabin with the Great Smokey Mountains in the background. A half flies over a lush forest.

Shenandoah National Park in Virginia

A hiker looks from high on the Stoney man summit.

Arches National Park in Utah

Shows an incredible 65 foot naturally created arch called Delicate Arch, with the La Sal Mountains in the distance.

Great Sand Dunes National Park in Colorado

A father and son sit together on the sand next to the creek. Distinctive mountains and sand dunes are in the background..

Everglades National Park in Florida

Shows an anhinga (also known as a snakebird or American darter) with outstretched wings on a willow tree with a roseate spoonbill on the left, both surrounded by the overglades.
The proof set was originally issued in a clear plastic presentation box.
America the Beautiful Quarters® Program is a registered trademark of the USA Mint. We also thank the USA Mint for use of the coin images.
---
---
List of items on:


eBay UK


eBay USA
---


On eBay UK:
---
2014 America The Beautiful COLORIZED Quarters U.S. Parks 5-Coin Set w/Capsules

£ 16.94

2014 America The Beautiful HOLOGRAM Quarters U.S. Parks 5-Coin Set w/Capsules

£ 16.94

2014 America The Beautiful 24K GOLD PLATED Quarters Parks 5-Coin Set w/Capsules

£ 16.94

2014 Hologram National Parks America the Beautiful Coins *Set of all 5 Quarters*

£ 16.94

2014 P, D, & S America the Beautiful Quarter 15 Coin Set

£ 10.40

2014 America the Beautiful Great Sand Dunes Mint Issue 3 Coin Set

£ 19.12

2014 24K Gold National Parks America the Beautiful Coins *Set of all 5 Quarters*

£ 16.94

US MINT 3 COIN SET 2014 AMERICA THE BEAUTIFUL QUARTERS GREAT SAND DUNES COLORADO

£ 66.63
---
List of items on:


eBay UK


eBay USA
---