back to Guinea list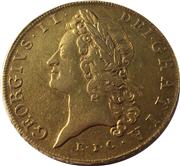 The 1729 Five Guinea EIC is a British Gold Coin minted under the reign of George II from gold bought from the East India Company.
Guineas got their name because the gold used to mint them came from Guinea in West Africa. Over the years gold came from other sources too and the Royal Mint started a practice of acknowledging the source of the gold by writing it under the King's head. 'LIMA' was used for gold captured from Spanish ships and 'E.I.C' was gold that came from the East India Company. The Five Guinea coin was the largest of the coins that bear the E.I.C. mark and although the actual mintage is not known it is a classed as a rare coin.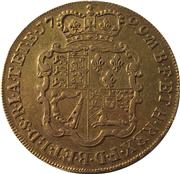 The
East India Company
was also known as the British East India Company and informally as the John Company. It was founded in London in 1600 by John Watts and George White as a company to trade in the East Indies (today's Southeast Asia) but it traded with India, China and most of the Indian subcontinent.
The East India Company's might grew to account to half the World's trade, with commodies like cotton, silk, salt, tea, saltpetre and opium. EIC helped build the British Empire in India, and was aggressive with it. By 1800, it had a private army of 260,000 men, which was twice as big as the British Army.
EIC effectively ruled India from 1757 until 1858, not always with financial gains. In 1857 the Indians had had enough and the
Indian Rebellion
of 1857, although not greatly sucessful in its own right, led to the British Government blaming and then nationalising the East India Company and bringing India under direct rule with a
British Raj
. Their armies were merged into the British Army and the company was officially dissolved in 1874.

Mintage: Not known

Minted at The Royal Mint.
In the Year: 1729
Monarch was George II. Prime Minister was Robert Walpole (Whig). The Treaty of Seville was signed between Great Britain, France, and Spain, ending the Anglo-Spanish War. The first (wooden) Putney Bridge is completed. Novels from Daniel Defoe and music from Antonio Vivaldi and Johann Sebastian Bach. 1729 can be written as MDCCXXIX.
Do you want to buy or sell a 1729 Five Guinea EIC? Selling to M J Hughes Coins means that you do not have to pay sellers fees, Paypal fees or any other transaction fees. They will give you an immediate offer and pay you the same day. Single coins or entire collection. Buying from M J Hughes Coins gives you a money-back guarantee of authenticity. Visit http://mjhughescoins.com.
back to Guinea list
---

On eBay UK:
---
---
On eBay USA:
---
---