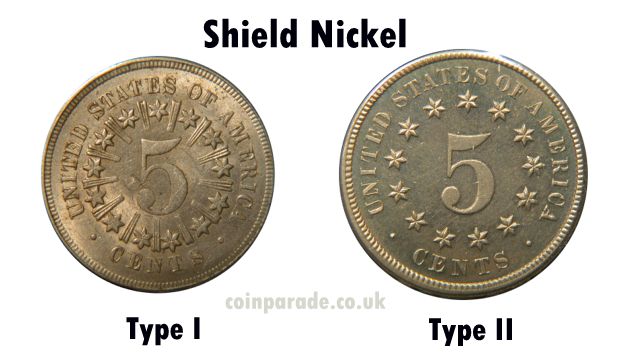 A Shield Nickel is an American five cent coin minted between 1866 and 1883. It is a small coin 20.5mm (0.8in) in diameter, weighs 5g (0.1615 troy oz).
The Shield Nickel is made from 75% copper and 25% nickel (the same alloy as today's nickels) so this was the first 5-cent coin to be called a nickel. (There was also 1,2 and 3 cent coins made from nickel).

The coin takes it's name from the shield design (representing the United States) that appears on the obverse of the coin. The designer was American engraver James Barton Longacre (1794-1869) who was the 4th Chief Engraver of the United States Mint between 1844 and 1869. Longacre also designed the Indian Head Cent and the Flying Eagle Cent.
Birth of the Nickel
Prior to the Shield Nickel, coins had been made from silver and the 5 cent coin was known as a half-dime. After the Civil War (1861-1865) both gold and silver was hoarded and in short supply and yet the USA needed low-denomination coins to be in circulation to keep commerce afloat.

25-cent banknotes (know as 'shinplasters', a name for fractional banknote currency) were in circulation from 1837 to 1863 but were unpopular.
Joseph Wharton (1826-1909) was a American Industrialist who founded the Wharton School at the University of Pennsylvania. Wharton suggested using nickel for coinage, probably because he had considerable interests in nickel mines and production. Congress agreed and Longacre made the design based on his own two-cent coin design.
Nickel turned out to be a difficult metal to work with and there was considerable production difficulties. Some coin experts say that it is rare to find a Shield Nickel that does not have some kind of flaw.
Types of Shield Nickels
There are two main types of Shield Nickel, the variants being on the reverse.
Type 1 Shield Nickels (1866-1867) have rays separating the stars that surround the denomination.

Type 2 Shield Nickels (1867-1883) have the rays removed and shows only the denomination surrounded by stars. The change came about due to production problems.

Production
Shield Nickels were only struck at the Philadelphia Mint. Proofs were minted every year, and in 1877 and 1878 only proofs were made. Altogether there was more than 120 million Shield Nickels minted.
There were overstrikes in 1879 (9 over 8) and 1883 (3 over 2). Some 1866 coins have a repunched date. The 1867 can be found with and without rays.
Production of the Shield Nickel ended in 1883 when the coin was replaced by the Liberty Head nickel.
---
List of items on:
---


On eBay UK:
---
USA 5 Cents Shield Nickel 1867 KM#97 (T72)

£ 19.99

1875 - Shield Nickel - 5¢

£ 29.05

USA 1867 No Rays (type 2) Shield Nickel 5 Cents

£ 35.00

1882 Shield Nickel 5 Cent Piece F Fine 5c US Type Coin Collectible

£ 33.21

United States US 1867 Shield Nickel 5 Cent Coin Without Rays

£ 30.00

USA 1872 5 Cents Shield Nickel as shown

£ 2.75

1870 USA Shield Nickel 5 Cents 'Errors In Legend' | Cupro-Nickel | KM Coins

£ 45.00

1866 U.S.A. Shield Nickel 5 Cents Coin | World Coins | Pennies2Pounds

£ 38.85
---


On eBay USA:
---
USA 5 Cents Shield Nickel 1867 KM#97 (T72)

£ 19.99

1875 - Shield Nickel - 5¢

£ 29.05

USA 1867 No Rays (type 2) Shield Nickel 5 Cents

£ 35.00

1882 Shield Nickel 5 Cent Piece F Fine 5c US Type Coin Collectible

£ 33.21

United States US 1867 Shield Nickel 5 Cent Coin Without Rays

£ 30.00

USA 1872 5 Cents Shield Nickel as shown

£ 2.75

1870 USA Shield Nickel 5 Cents 'Errors In Legend' | Cupro-Nickel | KM Coins

£ 45.00

1866 U.S.A. Shield Nickel 5 Cents Coin | World Coins | Pennies2Pounds

£ 38.85
---
List of items on:
---