The Mercury Dime or Winged Liberty Dime is an American 10 cent coin minted by the US Mint between 1916 and 1945. The head is that of Liberty, wearing a cap with wings on it, but as it looks like Mercury, the Roman messenger of the Gods, it is better known as a Mercury Dime.
The dime was minted in 90% silver, 10% copper, weighed 2.5 g with a diameter of 17.91 mm (0.705 inches).
The previous dime, the Barber or Liberty Head dime, had been in circulation for 25 years so the design could be changed without an act of Congress. There is a story that Mint thought that they had to change the design after this period and held a competition with three sculptors.
The previous designer (and now Chief Engraver) Charles E Barber (1840-1917) took part, but the winner was German-born American sculptor Adolph Weinman (1870-1952).  Weinman, who moved to American when aged 14, is also known for the Walking Liberty half-dollar (which is now the obverse of the Silver Eagle).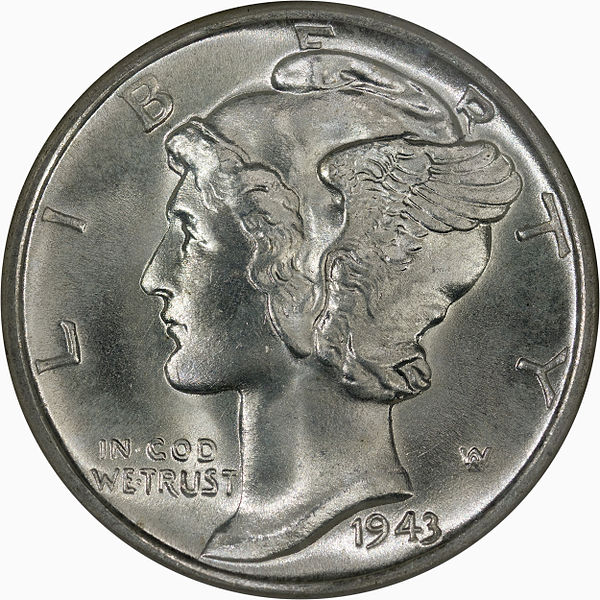 For his design, Weinman chose to depict Liberty wearing a winged Phrygian cap (also known as a Liberty cap), which was to symbolise "liberty of thought". He never disclosed the model, but it is thought to be Elsie Stevens, wife of the American poet Wallace Stevens who was a neighbour of Weinman.
Name Controversy
Despite numerous text articles issued for correction, the Winged Liberty Dime is more popularly known as the Mercury Dime. With so many Roman symbolisms, the female portrait is easily confused as the male Roman Messenger of the Gods.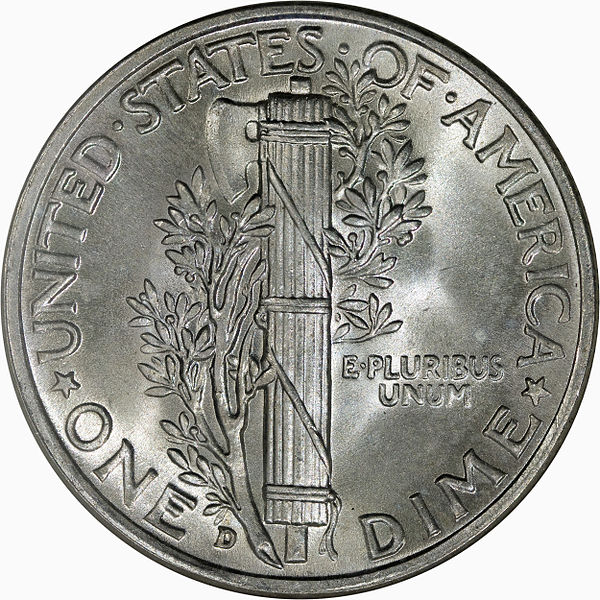 The reverse shows a fasces, which is bound bundle of wooden rods; it symbolised power and jurisdiction in Roman times. The fasces is wrapped in olive branches to symbolise peace.
Adolph Weinman's initials (AW) can be seen on the obverse between the date and the Y in LIBERTY. The mintmark is on the reverse to the right of the first E in ONE DIME. No mint mark is Philadelphia, 'D' is Denver and 'S' is San Francisco.
The production of the Mercury dime ended in 1945 and the Roosevelt dime was issued in 1946.
Mercury Dimes are Affordable
The dime is a small coin and has been generally issued in very large quantities, so is affordable to almost all collectors. The date to watch out for is the 1916D (only 264,000 minted and fetch $1000 upwards). 1921 and 1921D are collectable, and there were some restrikes (42 over 41) for the 1942 and 1942D. All other dimes are fairly low priced (starting at a few dollars).
Gold Mercury Dime for Centenary
In April 2016 to mark 100 years of the first issue of the Mercury dime the US Mint issued a 0.9999 Gold version which was sold out first day.
---
List of items on:
---


On eBay USA:
---
Mercury Dime 1916-1945 90.0% Silver

USD $ 4.76

1 oz Copper Round - Mercury Dime

USD $ 2.05

[Lot of 5] Mercury Dimes 1916-1945 90.0% Silver

USD $ 15.04

[Lot of 10] Mercury Dimes 1916-1945 90.0% Silver

USD $ 19.99

90% Silver Mercury Dime 50-Coin Roll Avg Circ - SKU #5126

USD $ 116.96

FULL DATES 2 Rolls of 50 ea $10 Face Value 90% Silver Mercury Dimes

USD $ 220.77

[Lot of 50] Mercury Dimes 1916-1945 90.0% Silver

USD $ 135.42

[Lot of 10] Mercury Dimes 1916-1945 90.0% Silver

USD $ 30.81
---
List of items on:
---