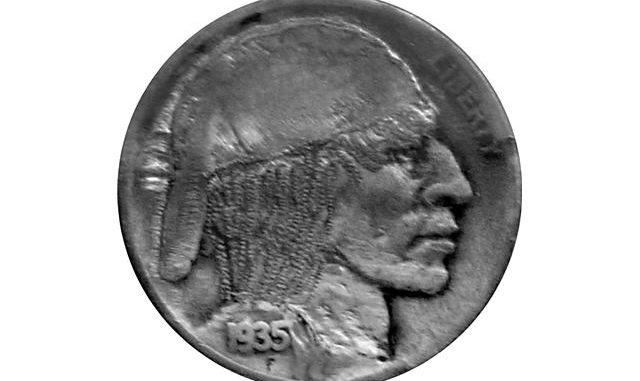 Hobo Nickels
Hobo Nickels are small pieces of art (sculptures) made from carving (traditionally) Buffalo Nickel coins. The term is actually generic and applies to any coin that is carved to produce a new image. The technique has been used over the centuries with many different coins.
The term Hobo Nickel came from the practice started in 1913 when the buffalo nickel coin was first issued in the United States of America. The coin is a good base for a small piece of carving: it is a nice size for a low denomination coin, the metal (25% nickel/75% copper) is fairly soft, and the images (Indian head and Buffalo) were large enough to alter easily.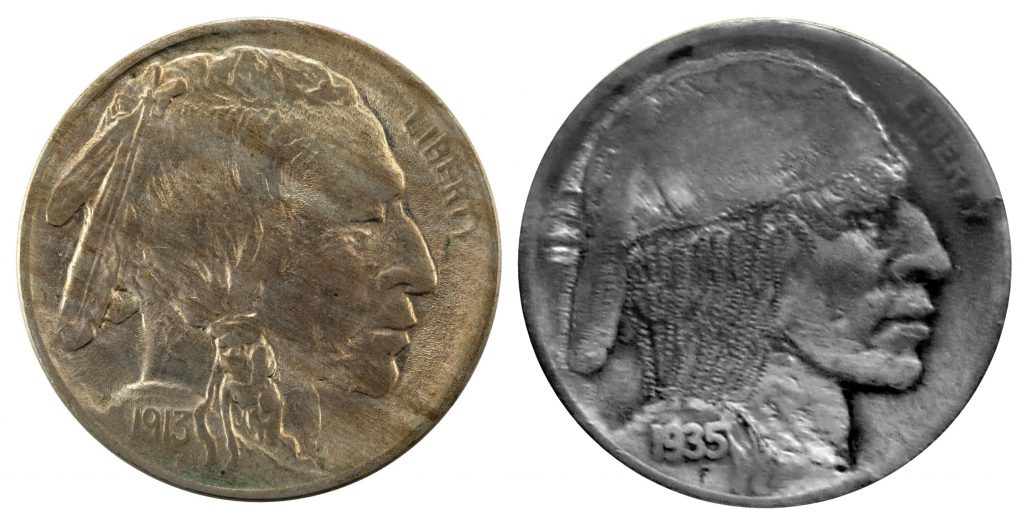 A Hobo was a man who liked to travel around America, wondering from town to town and looking for casual jobs. The Hobo was generally a law-abiding man who was willing to work hard to maintain an independent life. They were not tramps or beggars.
Altering nickel coins became associated with hobos. It was a portable hobby, it passed the time and there was maybe a chance of selling good artwork. Carving tools are basic and could be made from nails, penknives or other bits of metal.
Hobo Nickel Designs
Typical altered coins depicted bearded men in hats or skeleton skulls but over the years many sophisticated designs have been produced. Many artists tended to leave the date of the coin and the words 'Liberty' still showing on the altered coin.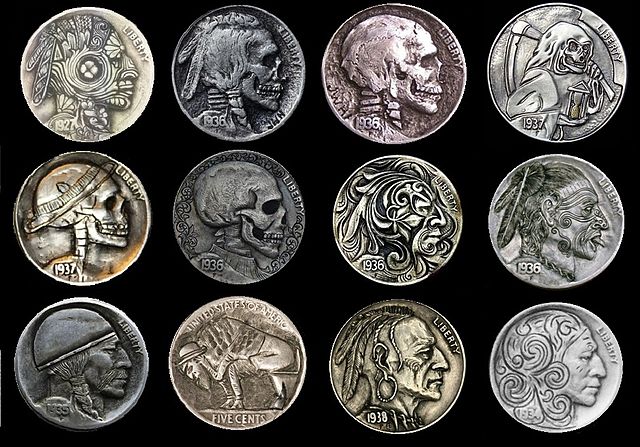 Some of the hobo nickels were outstanding pieces of art. The big name in hobo nickel carving is George Washington "Bo" Hughes. Bo was born about 1900 and was mentored by another great artist, Bert Weigand.
Prices
Most hobo nickels are fairly low priced. Good example original coins from the classic age may be $50 to a few hundred dollars, but some of Bo Hughes's coins have commanded 5-figure dollar amounts.
The buffalo nickel was replaced in 1938 by the Jefferson nickel. Many artists continued although the modern artist now had the advantage of power tools and other technologies. Much of the early work (like Bo's) has been copied and it can be difficult for the non-expert to tell the difference between an original and a copy.
These days hobo nickels may be mass produced (pressed like a coin blank) and are available for $5-10.
If you want an original hobo nickel carving, whether by a modern artist or one from the original era then my advice would be to buy from a reputable dealer or the artist themselves.
---
List of items on:
---


On eBay UK:
---
1PC American Morgan Hobo Coin Crafts Female Devil Angel Commemorative Coin GF

£ 4.54

1PC American Morgan Hobo Coin Crafts Female Devil Angel Commemorative Coin

£ 3.79

American Morgan Hobo Coin Crafts Female Devil Angel Commemorative Coin

£ 4.03

Grail EDC Brass Coin Hobo Nickels Morgan Necklace Art Coin Pendant Ornaments

£ 53.66

HOBO NICKEL COIN - ENGRAVED 1995 JEFFERSON NICKEL WITH SKULL , AS FOB / KEYRING

£ 9.99

HAND ENGRAVED HOBO NICKEL COIN - A.REED- CLASSIC TYPE 2019

£ 19.99

1PC American Morgan Hobo Coin Crafts Female Devil Angel Commemorative Coin^

£ 3.65

Hobo Nickel 1921-D USA Morgan Dollar Coin Copy Type 95 Ancient Vintage Coins Jc

£ 3.82
---
List of items on:
---