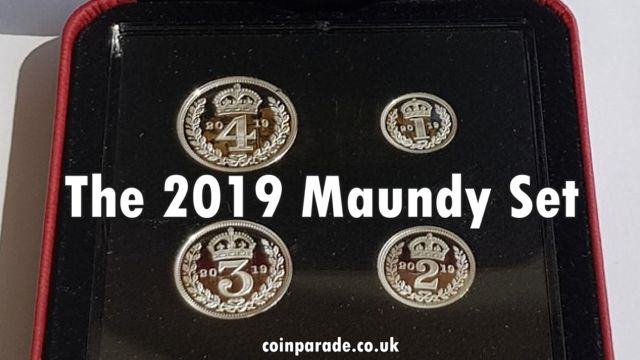 Maundy Money is given out by the Monarch as a gift at Royal Maundy. The ceremony is held on Maundy Thursday which is the day before Good Friday, also known as 'Holy Thursday'.
The 2019 Maundy Money Ceremony was held on 18th April 2019. Her Majesty The Queen attended the Royal Maundy Service in St George's Chapel at Windsor Castle and was accompanied by Princess Eugenie.
The Maundy set consists of four coins, denominated one penny, two pence, three pence and four pence. The number of sets given out to each man and woman is equivalent to the age of the Monarch in years. You can read more about the history of Maundy Money in our article What is Maundy Money?
Besides the sets given out by the Monarch, a limited number of sets are minted and made available for collectors. These are issued in a case rather than a purse.
2019 Maundy Set Obverse

The obverse shows the head of the monarch as you would expect. However, if you look at the Queen Elizabeth obverse you can see that the portrait is the original portrait used from when she first issued coins; although the Queen has had about five portraits the original (by Mary Gillick) is still used.
2019 Maundy Set Reverse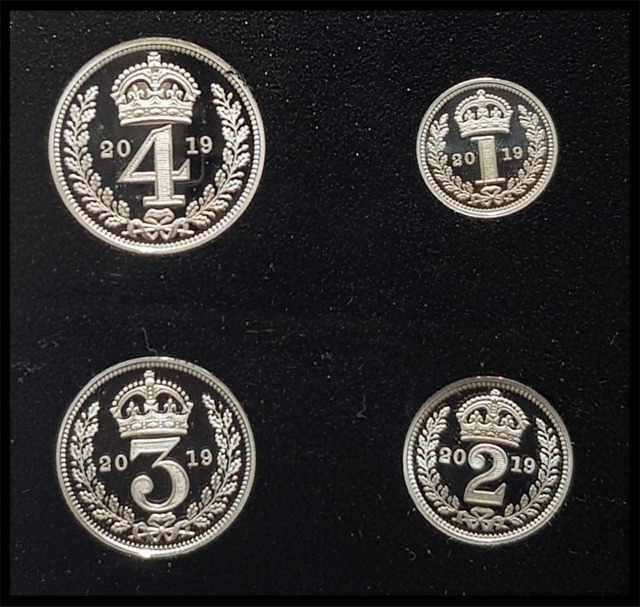 The reverse, which is a crowned numeral within an oak wreath, was created by Jean Baptiste Merlen back in 1822 and has only been altered slightly since then.
Image credits: Photographs supplied by M J Hughes Coins. The set shown is on sale on their website at mjhughescoins.com
Maundy Coin Specifications
| Coin | Weight | Diameter |
| --- | --- | --- |
| 1p | 0.47 g | 11.152 mm |
| 2p | 0.94 g | 13.443 mm |
| 3p | 1.41 g | 16.264 mm |
| 4p | 1.88 g | 17.63 mm |
---
List of items on:
---


On eBay UK:
---
GEORGE IV MAUNDY MONEY 1822 - 1830 LAUREL HEAD REF SPINK 3816 BOXED WITH CERT

£ 15.99

Maundy Money Quad Capsule and Box ONLY NO COINS Stunning Display for Collectors

£ 15.99

1962 Silver Proof Maundy Money Coin Set Westminster Abbey Very Scarce Rare

£ 299.95

large collection of maundy money 84 coins

£ 2,700.00

2 Maundy Money Coin Cases Free UK P&P

£ 9.95

NEW QUADRUM MAUNDY MONEY DISPLAY/STORAGE CASE

£ 4.70

Antique Original 188? Maundy Money Coin Set BOX ONLY for any Year In 1880s

£ 99.00

Coin Silver Proof Millennium 13 Coin 2000 Set Maundy money Royal Mint

£ 269.95
---
List of items on:
---