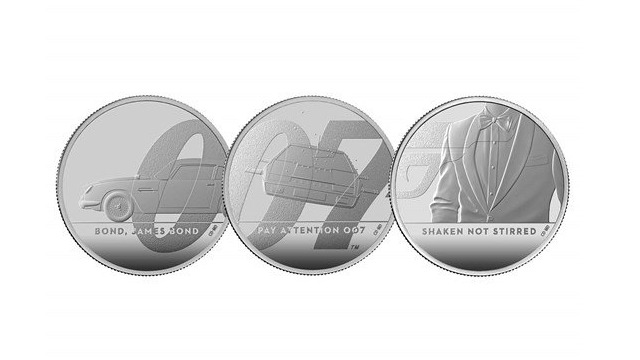 The Royal Mint have launched their much awaited James Bond 007 coins. The first coin is available from today.
Update: All three coins now available from the Royal Mint Shop

.
The three coins fit together to form a James Bond 007 motif, showing his classic Aston Martin DB5 car with the 'Bond, James Bond' phrase; the second coin shows a car transformed into another vehicle (looks like the submarine 'Wet Nelly' from The Spy Who Loved Me), with a note from gadget master 'Q' telling Bond to 'Pay Attention 007'; finally the suave dresser who likes his Martinis shaken and not stirred.
The reverse of the first of the James Bond coins to be released shows the front of James Bond's most famous car – the Aston Martin DB5. It is overlayed by a giant '0', which will eventually form '007' when added to the other coins in the series (see image above).

The Reverse was designed by Matt Dent and Christian Davies. Their initials are on the right hand side of the obverse.
The Obverse shows the fifth portrait of Queen Elizabeth II by Jody Clark.

The James Bond coins come in a myriad of variants. Besides the BU we have 1oz silver proof, 1/2oz silver proof, 2oz silver proof, 5oz silver proof, 1oz gold proof, 2oz gold proof, 1/4oz gold proof then some specials – 5oz gold, 1kg gold, 2kg gold and 7kg gold. If that wasn't enough there's a combination of 3-coin packages as well.
In the first few hours of the launch, several of these products have already sold out.

The James Bond Gold 7 kg is largest coin ever produced by The Royal Mint. The 185 mm diameter coin has a limited mintage of just one, but the price was not shown. The gold 2 kg coin has a limited edition of seven and has a price of £129,990.
Images used by permission of The Royal Mint

.
---
List of items on:
---


On eBay UK:
---
Ten Pence 10p 2018/2019 UNCIRCULATED A to Z Coins Royal Mint Coin Hunt Free P&P

£ 14.99

10p TEN PENCE A-Z ALPHABET COINS ROBIN LOCHNESS ANGEL BOND 2018++FREE POSTAGE+++

£ 9.75

Royal Mint 2018 10p Coins Alphabet Letters A-Z British Hunt Uncirculated Set

£ 18.99

 2018 UK 10p Alphabet series - B - James Bond - in packet

£ 8.00

UK Five Pound £5 Coin Brilliant Uncirculated 1990 to 2022 - Choose your Coin

£ 13.99

2020 James Bond 5 Pound 3x coin set in Royal Mint packs + box

£ 50.00

New James Bond royal mint £5 and a-z 10p coin gift set

£ 29.99

2020 James Bond Q Branch £5 Five Pound Brilliant Uncirculated Coin Cover

£ 27.99
---
List of items on:
---