The 2020 Five Pound Coin - James Bond: DB5
The Reverse shows the front of James Bond's most famous car - the Aston Martin DB5. It is overlayed by a giant '0', which will eventually form '007' when added to the other coins in the series (see image below).
The Reverse was designed by Matt Dent and Christian Davies. Their initials are on the right hand side of the obverse.
These coins are available from the
Royal Mint Shop

.

The Obverse shows the fifth portrait of Queen Elizabeth II by Jody Clark.
The James Bond coins come in a myriad of variants. Besides the BU we have 1oz silver proof, 1/2oz silver proof, 2oz silver proof, 5oz silver proof, 1oz gold proof, 2oz gold proof, 1/4oz gold proof then some specials - 5oz gold, 1kg gold, 2kg gold and 7kg gold. If that wasn't enough there's a combination of 3-coin packages as well.
The three coins fit together to form a James Bond 007 motif, showing his classic Aston Martin DB5 car with the 'Bond, James Bond' phrase; the second coin shows a car transformed into another vehicle, a with a note from gadget master 'Q' telling Bond to 'Pay Attention 007'; finally the suave dresser who likes his Martinis shaken and not stirred.

Image credit:
The Royal Mint

.
Remember 2020 ?
The Monarch is Queen Elizabeth II. Prime Minster is Boris Johnson. US President is Donald Trump. The UK finally leave the EU on 31 January at 11pm. The Coronavirus (Covid-19) Pandemic devastates the World and the UK is in lock-down. It's a terrible year for most people with illnesses, deaths, job losses, school closures and a general loss of normality of life. But many Shares still perform well and gold, silver and bitcoin see massive gains.
Elizabeth II (1952-Present)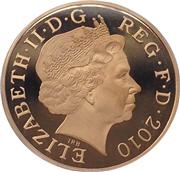 Queen Elizabeth II is the current and longest reigning monarch ever. Born on 21 April 1926 to King George VI and Elizabeth Bowes-Lyon, she became Queen in 1952 and her Coronation was on 2 June 1953.
Queen Elizabeth II has issued many coins and was monarch during decimalisation.
General Description: Five Pound Coins
As Crowns were redenominated from 25p (five shillings) to £5 in 1990, this category contains the newer 'decimal crowns'. We call them five pound coins because there are quite a number of these and the Royal Mint doesn't always refer to them as Crowns, although they seem to have the same weight and general dimensions. For the older, traditional coins see our
Crowns
category.
The Royal Mint issue many £5 coins both individually and as a series. They are all commemorative and are usually available as BU and silver, often gold and sometimes with other series variants like 1oz, 5oz, 10oz, etc. There are always plenty on
ebay
.
Which Mint: The Royal Mint
The Royal Mint is the designated place for the UK to mint coins. It dates back well over 1000 years and is a Government-owned company.
Formed in the reign of Alfred the Great about the year 886, during the period 1279-1812 it was generally referred to as
The Tower Mint
as it was housed at the Tower of London. The
Master of The Royal Mint
has included famous figures such as Sir Isaac Newton.
Since 2010 it has operated as Royal Mint Ltd, a company owned by HM Treasury, under an exclusive contract to supply all coinage for the UK although it also produces medals and coins for other countries. It is currently located at Llantrisant, Wales.
There is also an on-line shop at
The Royal Mint Shop

.
Country of Origin: United Kingdom
The United Kingdom (UK) is the Union of England, Scotland, Wales and Northern Ireland. It is often refered to as Great Britain (GBR). It has a long, rich history.
The orignal coinage was Pounds, Shillings and Pence but since decimalisation on 15 February 1971, it is £1 = 100p, that is One Pound = 100 pence. The coinage of the UK is also a long history, the Royal Mint being established as long ago as 886AD when coins were hammered. Today there is perhaps 30 billion coins in circulation, and many (numismatic) collectors coins and sets are issued frequently in gold, silver and other metals.
If you don't see a coin in the list below try the Five Pound Coins page on
eBay UK
---
List of items on:


eBay UK


eBay USA
---


On eBay UK:
---
2020 JAMES BOND ASTON MARTIN DB5 £5 COIN IN A CHANGE CHECKER CARD PACK NEAR MINT

£ 25.00

2020 JAMES BOND ASTON MARTIN DB5 £5 COIN WITH A CAPSULE IN NEAR MINT CONDITION.

£ 24.50
---


On eBay USA:
---
2020 JAMES BOND ASTON MARTIN DB5 £5 COIN IN A CHANGE CHECKER CARD PACK NEAR MINT

£ 25.00

2020 JAMES BOND ASTON MARTIN DB5 £5 COIN WITH A CAPSULE IN NEAR MINT CONDITION.

£ 24.50
---
List of items on:


eBay UK


eBay USA
---