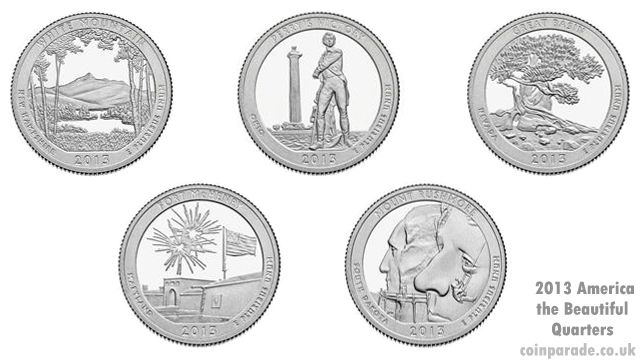 The 2013 release of the America the Beautiful Quarters® Silver Proof Set is the 4th in the series. The US Mint launched the series in 2010 to commemorate the most cherished National Parks and other National sites. Each year 5 quarters of different designs are minted and released as both Proof and Uncirculated. The series consists of 56 coins and runs from 2010 until 2021 inclusive.
Each obverse shows John Flanagan's 1932 portrait of George Washington. Each coin is 90% silver and weighs 6.25g with a diameter of 24.3mm (0.955 inches). The edge is reeded.
The 2013 set feature the following National sites:

White Mountain National Forest

in New Hampshire

Shows Mount Chocorua, which is the most eastern peak of the Sandwich range, framed by birch trees.

Perry's Victory and International Peace Memorial in Ohio

Shows a statue of Master Commandant Oliver Hazard Perry. The Peace memorial is shown behind the figure.

Great Basin National Park in Nevada

A single Bristlecone pine tree is growing in the rocky glacial moraines.

Fort McHenry National Monument and Historic Shrine in Maryland

Shows the Fort McHenry site during the Defenders Day annual celebration event. Fireworks are seen over the fort with a flag flying in the foreground..

Mount Rushmore National Memorial in South Dakota

Shows a sculptor suspended by a rope adding the final touches to Thomas Jefferson's face.
The proof set was originally issued in a clear plastic presentation box.
America the Beautiful Quarters® Program is a registered trademark of the USA Mint. We also thank the USA Mint for use of the coin images.
---
---
List of items on:


eBay UK


eBay USA
---


On eBay UK:
---
USA B/UNC "AMERICA THE BEAUTIFUL" QUARTER 2013 "GREAT BASIN" Mint D

£ 2.50

America: The Beautiful Commemorative Quarters - South Dakota Mount Rushmore 2013

£ 1.49

USA B/UNC "AMERICA THE BEAUTIFUL" QUARTER 2013 " WHITE MOUNTAIN " D MINT

£ 2.50

USA B/UNC "AMERICA THE BEAUTIFUL" QUARTER 2013 " FORT McHENRY " D MINT

£ 2.50

USA B/UNC "AMERICA THE BEAUTIFUL" QUARTER 2013 " MOUNT RUSHMORE " D MINT

£ 2.85

America The Beautiful Commemorative Quarters Ohio Perry's Victory 2013

£ 1.99

2013 America The Beautiful COLORIZED Quarters U.S. Parks 5-Coin Set w/Capsules

£ 16.89

2013 America The Beautiful HOLOGRAM Quarters U.S. Parks 5-Coin Set w/Capsules

£ 16.89
---


On eBay USA:
---
USA B/UNC "AMERICA THE BEAUTIFUL" QUARTER 2013 "GREAT BASIN" Mint D

£ 2.50

America: The Beautiful Commemorative Quarters - South Dakota Mount Rushmore 2013

£ 1.49

USA B/UNC "AMERICA THE BEAUTIFUL" QUARTER 2013 " WHITE MOUNTAIN " D MINT

£ 2.50

USA B/UNC "AMERICA THE BEAUTIFUL" QUARTER 2013 " FORT McHENRY " D MINT

£ 2.50

USA B/UNC "AMERICA THE BEAUTIFUL" QUARTER 2013 " MOUNT RUSHMORE " D MINT

£ 2.85

America The Beautiful Commemorative Quarters Ohio Perry's Victory 2013

£ 1.99

2013 America The Beautiful COLORIZED Quarters U.S. Parks 5-Coin Set w/Capsules

£ 16.89

2013 America The Beautiful HOLOGRAM Quarters U.S. Parks 5-Coin Set w/Capsules

£ 16.89
---
List of items on:


eBay UK


eBay USA
---