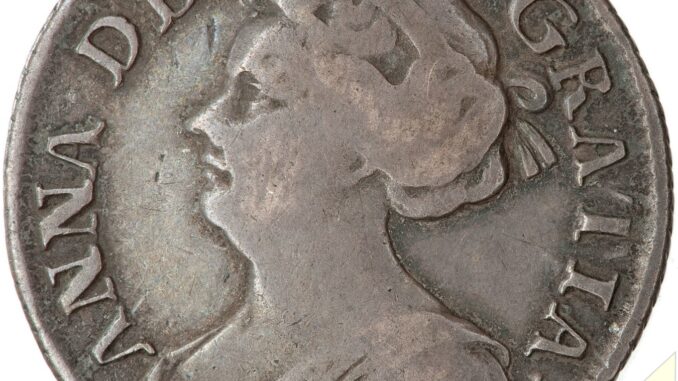 The 1711 Sixpence - Anne (3619)
Silver Sixpence of Queen Anne minted at the Royal Mint in London in 1711. Diameter 21mm and weighs 2.9g. SCBC 3619.
Queen Anne minted many variations of sixpence, both before, and after, the Union with Scotland in 1707. Many contain words or mint marks.
The Obverse is a bust of Queen Anne facing left. The legend around is "ANNA DEI GRATIA" (Anne by the Grace of God). The portrait of Queen Anne is probably by John Croker (1670-1741) who engraved almost all of the dies for the coins of Queen Anne.

The Reverse shows a crowned cruciform shield with Star of the Garter in the centre. Legend is "MAG BRI FR ET HIB REG 1711" with the date divided across the top crown.
Image credit:
Museums Victoria
Click to Check these on eBay USA
Mintage: Not known
Minted at
The Royal Mint
.
Remember 1711 ?
Monarch is Queen Anne. The British attack Quebec but 8 ships sink in the Saint Lawrence River and 850 soldiers drown. The first ever race at Ascot racecourse.
Anne (1702-1714)

Anne became Queen of England, Scotland and Ireland on 8 March 1702. On 1 May 1707, under the Acts of Union, two of her realms, the kingdoms of England and Scotland, united as a single sovereign state known as Great Britain.
Born Anne Stuart, the daughter of James II, she became Queen after the death of William III. Anne was the last of the Stuarts and became the first monarch of the newly formed United Kingdom of Great Britain.
Some coins have "VIGO" on them, meaning they were minted from bullion captured from the Spanish fleet at Vigo Bay. They can be quite rare and expensive.
The
regnal years
for Queen Anne coins were:
1703:SECVNDO; 1705:QVARTO; 1706:QVINTO; 1709:OCTAVO; 1711:DECIMO; 1713:DVODECIMO; 1714:DECIMO TERTIO.
General Description: Sixpences
The Sixpence (half a shilling) was a British silver coin that was first minted 1551 and virtually continuously until decimalisation in 1971. They were often known as 'tanners'. They are small coins, the last minted had a diameter of about 19.4 mm.

Specifications:
Year Minted: 1551-1970
Diameter: 19.41 mm
Weight: 2.83g (1816-1970)
Edge: Milled
Metal:

1551–1816: Silver
1816–1920: 92.5% Silver
1920–1946: 50% Silver
1947–1970 Cupronickel. Zero Silver
In today's money they are 2½p. It doesn't sound much but at the time it was a weeks pocket money! It was a popular coin when in circulation and is now popular with collectors as it has a long history and many nice specimens can be obtained at affordable prices.
Which Mint: The Royal Mint
The Royal Mint is the designated place for the UK to mint coins. It dates back well over 1000 years and is a Government-owned company.
Formed in the reign of Alfred the Great about the year 886, during the period 1279-1812 it was generally referred to as
The Tower Mint
as it was housed at the Tower of London. The
Master of The Royal Mint
has included famous figures such as Sir Isaac Newton.
Since 2010 it has operated as Royal Mint Ltd, a company owned by HM Treasury, under an exclusive contract to supply all coinage for the UK although it also produces medals and coins for other countries. It is currently located at Llantrisant, Wales.
There is also an on-line shop at
The Royal Mint Shop

.
Country of Origin: United Kingdom
The United Kingdom (UK) is the Union of England, Scotland, Wales and Northern Ireland. It is often refered to as Great Britain (GBR). It has a long, rich history.
The orignal coinage was Pounds, Shillings and Pence but since decimalisation on 15 February 1971, it is £1 = 100p, that is One Pound = 100 pence. The coinage of the UK is also a long history, the Royal Mint being established as long ago as 886AD when coins were hammered. Today there is perhaps 30 billion coins in circulation, and many (numismatic) collectors coins and sets are issued frequently in gold, silver and other metals.
If you don't see a coin in the list below try the Sixpences page on
eBay UK
---
List of items on:


eBay UK


eBay USA
---


On eBay USA:
---
1711 NGC XF 45 Anne 6 Pence Great Britain Silver Mint Error Coin (21081802C)

USD $ 499.00

1711 United Kingdom / Great Britain Queen Anne .925 Silver Sixpence Coin

USD $ 99.99

Rare 1711 Queen Anne English Sixpence Pendant 24" Silver Chain w COA & Gift Box

USD $ 387.83

1711 Great Britain Silver Sixpence Queen Anne AU-55 NGC - SKU#240400

USD $ 611.85
---
List of items on:


eBay UK


eBay USA
---