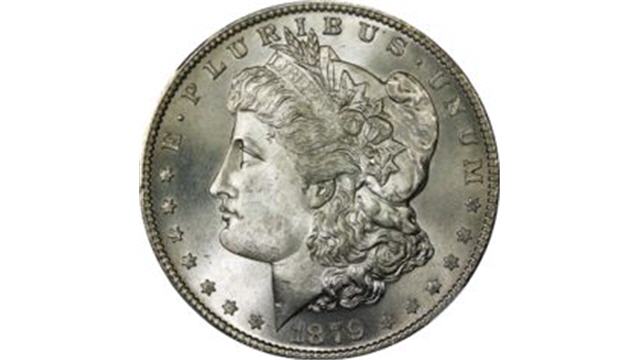 Morgan Dollar Proofs
Rare American Coins and Morgan Dollar Branch Mint Proofs
There is a widespread belief that Philadelphia is the only US mint to produce proof Morgan silver dollars. This is generally true, but the other 3 mints occasionally struck proofs as well. These coins were struck with the extra pressure, from highly polished dies, one at a time and handled with extra care.
All the dies for Morgan and Peace silver dollars were made in Philadelphia. The final steps of basining and polishing were performed when the dies arrived at the respective branches.
Because of the low mintage numbers of branch mint proofs, and how infrequently they were struck, it's commonly believed the branch mint proof dies were just modifications of the business dies. The largest known branch mint proof production amounts to 24 examples.
There is a lot of controversy and conjecture around these coins. Determining positively that a coin is indeed a branch mint proof is difficult. These examples usually don't exhibit the square rims or bold design details of the Philadelphia proof silver dollars.
Employees of the three mint branches weren't experienced in striking proof quality coins. Therefore these coins didn't get the attention to detail the Philadelphia versions got.
Proof coins from the 3 branches are hard to distinguish from exceptional prooflike business strikes. That means they must be authenticated by an expert in the field.
The late Walter Breen was considered to be the ultimate authority on the subject. He had been authenticating these coins since 1963, and was possibly the only person expert enough to authenticate coins as proofs originating from a branch mint.
Montana coin dealer, Wayne Miller may be a close second to Walter Breen in this field. I'm not sure whom PCGS or NGC uses for this purpose.
Authentication starts with mint records indicating that the respective branch had produced proof coins in a given year. The existence of the coin must be well documented to begin with.
The well documented dates, proof coins were struck at branch mints are:
1879-O, 12 pieces, of which 4 are known to exist.
1883-O, 12 pieces, of which 2 are known to exist.
1893-CC, 12 pieces, of which 4 are known to exist.
1921-S, 24 pieces, of which 5 are known to exist.
There are other dates that exhibit definite proof qualities, such as the 1887-O, 1883-CC, 1884-CC and 1895-O, but not adequate mint records.
These examples are more than simply prooflike. Legitimate differing opinions exist among several leading and knowledgeable experts as to whether these are genuine proof coins produced at the mint branch or simply specimen type coins.
The well documented dates are known as class I proofs produced by the branch mints. The 1879-O is probably the best known, because it commemorated the reopening of the New Orleans mint, closed since 1861.
The 1893-CC was struck for the closing of the Carson City Mint. The 1921's were struck for coin dealers Farran Zerbe and Henry Chapman. I can't find any commemorative reason for the production of the 1883-O version however.
To discover more about coins: collecting issues, money management, investing in the rare and bullion coin market, and much more, I invite you to visit for videos and free tips on buying coins at the best prices.
Article Source: Rare American Coins and Morgan Dollar Branch Mint Proofs
---

On eBay UK:
---
1881S USA MORGAN DOLLAR SILVER COIN
---

On eBay USA:
---
1884-CC MORGAN DOLLAR - HIGH GRADE CIRCULATED EXAMPLE!
---